As a slowing economy continues to cool off a once red-hot freight market, fleet management experts advise leaning on digital analytics to beef up service and maintenance programs and maximize budget dollars.
With more sensors than ever before, trucks can automatically report issues before they become costly downtime events to more stakeholders than ever before.
For decades past, fleet managers have often been the lone key holders to spreadsheets and notebooks that keep up with critical fleet maintenance data,  but that can invite more risk at a time when fleets may want to shore up their resources and hunker down for an economic downturn. 
"A lot of times these spreadsheets can be really advanced, but it's known by one person and it's not automated. It's all manual and it's all very time consuming," said Alex Clementi, pre/post sales engineer at Decisiv, a company whose tech platform corrals digital telematics data and makes it available for various stakeholders including fleet manages, service personnel, dealers and OEMs.
"The unfortunate thing is what happens when that person that knows everything goes on PTO? What happens when they're out sick or, or whatever it might be?" Clementi continued.
[Related: AI can improve driver utilization and fleet efficiency]
During both bustling and lackluster freight markets, Samsara's Head of Product and Partner Marketing Suyog Deshpande recommends leaning into digital analytics to cut costs and increase uptime.
"It comes down to making data your competitive advantage," Deshpande said. "Fleets that leverage digitized management platforms can better anticipate, respond and adapt to inflation and slowing market conditions with increased access to the right data and insights.
"By connecting every part of your operations into a single management platform – from vehicle telematics to video safety to asset tracking and more – these organizations gain a holistic view of their business and can increase efficiency and protect their bottom line," Deshpande continued.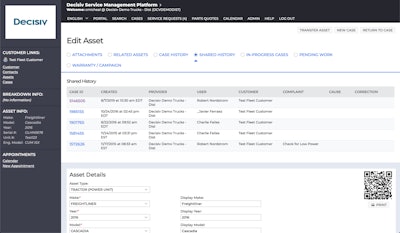 Sometimes protecting that bottom line involves knowing when to pull the trigger on replacing older trucks, especially as revenue streams narrow according to Fleetio's Head of Product Marketing Ashlee Biggs.
"The old adage, 'what gets measured, gets managed' couldn't be truer in times like these," Biggs said. "The most basic challenge that digitized fleet management addresses is tracking and measuring costs at a low price as compared to traditional fleet management solutions. Increased costs for fuel, difficulty obtaining parts for repairs, replacing old vehicles and staying up to date on what's happening with vehicles and drivers who are distributed across many locations are major disruptions defining the economic downturn for fleets."
Digital fleet management can also help fleets cope with the toughest road of all during a downturn: downsizing staff. However, Chris Orban, vice president and business area manager of supply chain insights at Trimble, said analytics during business slumps don't always have to lead to pink slips.
"The obvious answer here is that increased efficiencies – gained from using digitized fleet management – can be used to reduce the number of employees in certain roles (be those roles in technology, operations, support, etc.)," Orban said. "However, I would rather focus on the fact that those efficiencies can allow the same resources a fleet currently has to do more in the same time. 
"Rather than forcing operations to look at every single driver, for example, a fleet can have exception-based alerts that tell them exactly where to focus their limited time and resources," Orban continued. "This, in turn, results in improved service and results for customers."
Clementi pointed out that by tracking key performance metrics like fuel economy, uptime as well as route and driver impact, fleets can hone in on their most expensive assets and make midcourse corrections. Sometimes that might mean extending a truck warranty or moving on to another truck brand.
"One of the alerts that we have in Sentinel is expired warranties," Clementi said. "So as that warranty is set to expire, a lot of times fleets will use that alert and ask, 'Do we keep this truck and buy some extended coverage? Or is this truck just not worth keeping? Do we want to sell this while we still have a little bit of warranty coverage? We can probably sell it for a little more and then we can look onto the next batch of trucks that we need to go out and purchase.'"
Overcoming barriers to going digital
Switching to new fleet management technology may be intimidating and involve taking a leap of faith, but Orban advised that "during a downturn in the economy, we have to be willing to look for solutions that might be less comfortable."
Putting aside spreadsheets and notebooks for a system that automatically informs several stakeholders can be daunting task but Orban said it can result in better business.
"For fleets, some of this risk may be associated with trusting a vendor or other party to manage operational systems, and to allow a fleet's data to leave their four walls," Orban continued. "However, the benefit of this is increased uptime, increased efficiency and, ultimately, superior service, to both your internal and external customers."
Biggs pointed out that transitioning to a digitized fleet management platform can be made easier by first knowing well the stakeholders who will be accessing fleet data so that training can be tailored accordingly.
"Create a plan to help them better understand why these tools are helpful to your organization and a rollout plan to support their adoption," Biggs said. "Many digital fleet management tools have onboarding services, where a customer success manager helps fleets come online over the course of several live trainings. Fleets may also make use of quick start guides, onboarding checklists, and training videos to complete their team training."
[Related: XPO Connect delivers growth with a human touch]
Some technical hurdles may emerge while making the transition including integrating information from other systems.
"For that, there are a variety of methods," Biggs said. "At Fleetio these include native integrations with some of the biggest providers of telematics, fuel transactions, maintenance providers and beyond. Fleets can also build out their own custom integration using open APIs. Another option is for a user to manually import their data in bulk by uploading a file. It is important to explore all of these data upload options for any digital fleet management tool you are exploring."
Robert Ziemba, senior director of marketing at Decisiv, said it doesn't take long for fleets to realize the benefits of transitioning to a digitized network that regularly informs key players.
"Like the telephone network or the internet, it becomes more and more valuable to all the participants as you get more and more people on those networks," Ziemba said. "Over time, what we've done at Decisiv is grow that network and that's made it incredibly more valuable."