Trucking news and briefs for Monday, Oct. 10, 2022:
Trucking sees worst monthly employment numbers since early 2020
The Bureau of Labor Statistics released its monthly Jobs Report on Friday, and preliminary numbers show payroll employment in trucking taking a dive unlike anything seen since the dawn of the pandemic.
The month of September saw 11,400 employees leave the trucking industry as diesel prices remain high and rates stay down off pandemic-highs. 
Overall, September represents a big reversal of the prevailing trend, as payroll trucking employment had crashed at the onset of the pandemic, crept back up throughout 2021 to above pre-pandemic levels, remained almost flat through Summer 2022, and now crashed back down. 
Total nonfarm payroll employment in the U.S. increased by 263,000 in September, according to BLS. Monthly job growth has averaged 420,000 so far in 2022, compared with 562,000 per month in 2021. In September, notable job gains occurred in leisure and hospitality and in health care.
Transportation and warehousing as a whole saw a monthly decrease of 7,900 jobs in September, with trucking's loss offset in part by air transportation, which added 2,800 jobs; and support activities for transportation, which added 4,900 jobs.
Averitt recognized for environmental responsibility efforts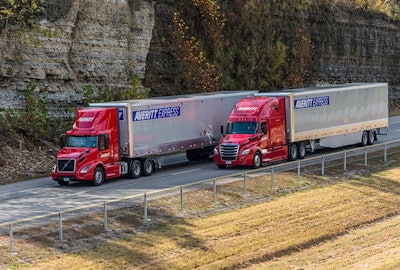 The Tennessee Trucking Association recently honored Averitt Express (CCJ Top 250, No. 26) for its commitment to environmental responsibility, presenting Averitt with its Clean Diesel Award. 
The Clean Diesel Award is given to a Tennessee-based transportation and logistics provider each year for efforts in improving fuel conservation and sustainability within its fleet. 
"We're proud to earn this recognition from the Tennessee Trucking Association," said Averitt President Wayne Spain. "We're dedicated to improving the sustainability of our operations, and we will continue to seek innovative and creative technologies to reduce our impact on the environment." 
Averitt said it has adopted a wide variety of practices and technologies into its fleet, including:
Using only ultra-low-sulfur diesel at the company's in-house fueling stations to reduce emissions of particulate matter and nitrogen oxides 
Operating new low-emission diesel tractor engines 
Providing trucks with auxiliary power units that enable drivers to reduce tractor idling when parked for long periods of time 
Introducing electric forklifts to its fleet 
Maintaining balance within the company's network to reduce empty miles to reduce emissions and fuel usage
FMCSA denies light manufacturer's petition to allow pulsating brake lights
The Federal Motor Carrier Safety Administration has denied a petition from lighting manufacturer Intellistop that would have allowed carriers to operate trucks with Intellistop's pulsating brake light module.
With Intellistop's module, when brakes are applied, it pulses the required rear clearance, identification and brake lamps from a lower-level lighting intensity to a higher-level lighting intensity four times in two seconds and then returns the lights to a steady-burning state.
Intellistop said in its request that previous research has demonstrated that the use of pulsating brake-activated lamps increases visibility of vehicles and thus has the ability to reduce rear-end crashes with trucks. Intellistop added that the use of its module would allow carriers to maintain operational safety levels and implement more efficient and effective operations.
FMCSA said that "given the scope of the exemption sought, to include all motor carriers, and the limitations of the research studies completed to date," it believes an exemption on all CMVs "is not supported at this time."
"Unlike other exemption requests received by the agency relating to rear lighting, Intellistop's application seeks to alter the performance of the [Federal Motor Vehicle Safety Standard]-required lighting device on all CMVs rather than adding additional pulsating lights," FMCSA said in its denial.
FMCSA added that Intellistop "did not provide any specific data relating to the operation of its device" or "to the use of its module which pulses the existing brake lamps rather than the use of additional lamps," such as in similar exemptions granted to Waste Management, Grote, National Tank Truck Carriers, and Groendyke.