Trucking news and briefs for Tuesday, Oct. 11, 2022:
Biden visits Volvo powertrain plant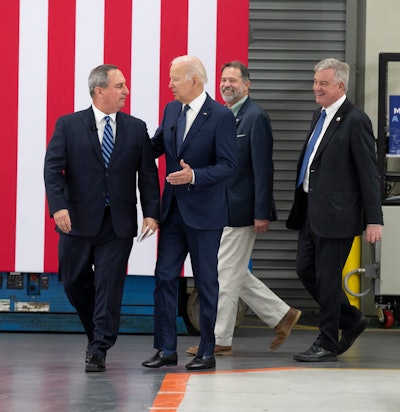 Volvo Group North America on Friday, Oct. 7, hosted President Joe Biden at the Volvo Group Powertrain Operations facility in Hagerstown, Maryland, for National Manufacturing Day. Biden met with Volvo Group executives, toured the facility, and spoke with employees during the event.
"The Volvo Group is very pleased to host President Biden at our Volvo Group Powertrain Operations today on National Manufacturing Day," said Martin Weissburg, chairman of Volvo Group North America and Mack Trucks president. "National Manufacturing Day recognizes modern manufacturing, and our Hagerstown site exemplifies that as it provides advanced transportation technologies to meet customer needs today and in the future."
During the past 10 years, the Volvo Group has invested nearly $320 million in the site. The Hagerstown campus produces engines, transmissions and axles for Mack Trucks, Volvo Trucks, Prevost motorcoaches and Volvo Buses sold in North America. It also recently began production of the Modular Power Boxes (MPB) that are at the heart of the Volvo's new zero-emission battery-electric trucks, the Volvo VNR Electric and Mack LR Electric models. 
Biden toured the MPB subassembly, assembly and testing areas while on campus. 
Carriers, drivers needed for Wreaths Across America
Lanes are currently open across the country to support the delivery of sponsored veterans' wreaths to participating Wreaths Across America (WAA) locations this December.
Carriers and truck drivers are needed to join the Honor Fleet and help the national nonprofit fulfill its mission to "Remember, Honor, Teach" with the delivery of live, balsam veterans' wreaths to their destination — one of more than 3,500 participating locations across the country — where volunteers will place the wreaths on the headstones of American heroes.  
Drivers and carriers learn more about helping to move the wreaths and register to participate here. 
This year, WAA transportation partners will assist in delivering more than 2.5 million veterans' wreaths to be placed on graves of our fallen heroes all over the country on National Wreaths Across America Day, Saturday, Dec. 17. Transportation partners who join as volunteers will become a part of WAA's Honor Fleet.
"With the help of our volunteer transportation partners in 2021, more than 525 truckloads of veterans' wreaths were delivered across the country by hundreds of volunteer professional truck drivers," said Don Queeney, WAA Director of Transportation. "We are immensely grateful for the support of our Honor Fleet carriers who are taking the opportunity to give back in recognition of the sacrifice our veterans make, and because of their support we are able to fulfill our mission."