Trucking news and briefs for Wednesday, Oct. 19, 2022:
G&W Tanks acquired by Quantix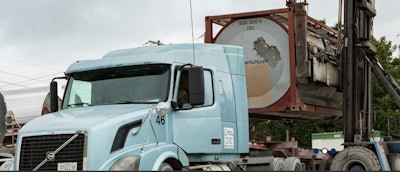 G&W Tanks — a provider of ISO tank transportation with 45 trucks, tank repair, and tank storage depot, wash and loading services — has been acquired by Quantix, a portfolio company of Chicago-based private equity investment firm Wind Point Partners.
Wind Point Managing Director Konrad Salaber noted that G&W's locations in Charleston, South Carolina, and Savannah, Georgia, bolster Quantix's presence in the Southeast. Based in The Woodlands, Texas, Quantix was formerly known as A&R Logistics.
G&W represents the eighth acquisition for Quantix under Wind Point's ownership. Wind Point is an active investor in transportation, logistics and route-based businesses with select prior investments including Dicom Transportation, STG Logistics, American Trailer Rental Group, Valicor Environmental Services, Smart Care, and D&H United.
Kodiak partners with IKEA for autonomous run in Texas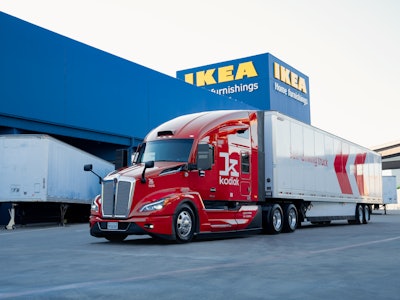 Self-driving trucking tech firm Kodiak Robotics has started a partnership with IKEA Supply Chain Operations by piloting autonomous freight deliveries in Texas.
The cooperation, which began on Aug. 8, includes a Kodiak autonomous heavy-duty truck transporting IKEA products seven days a week between the IKEA distribution center in Baytown and the IKEA store in Frisco.
The main purpose, Kodiak said, is to get a better understanding of how Kodiak's autonomous driving technology contributes to increased road safety and better working conditions for truck drivers on longer distances. The self-driving truck has a professional safety truck driver behind the wheel who picks up a loaded trailer at the distribution center each morning and oversees the autonomous delivery to the store by late afternoon.
"IKEA and Kodiak share a commitment to putting safety first," said Don Burnette, founder and CEO, Kodiak Robotics. "Together we can enhance safety, improve working conditions for drivers, and create a more sustainable freight transportation system. Adopting autonomous trucking technology can improve drivers' quality of life by focusing on the local driving jobs most prefer to do. We look forward to working with the IKEA carrier partners to bring these benefits to the IKEA supply chain."
Penske recognized by EPA
Penske Logistics (CCJ Top 250, No. 12) has been recognized by the U.S. Environmental Protection Agency (EPA) SmartWay program as a High Performer in a pair of clean transportation categories.
Penske earned the listing in the Truck Carrier Carbon Metrics and Logistics Freight Management categories. The SmartWay program noted that a High Performer consumes less fuel for every mile traveled and for every ton of freight that is moved.
"We are very pleased to be recognized by the SmartWay program as a High Performer," said Marc Althen, Penske Logistics president. "We are dedicated to reducing the carbon footprints of our own fleet and that of our customer's operations."
SmartWay Partners like Penske annually submit efficiency and air quality performance data to the EPA.
According to SmartWay, a company can earn entry to the Truck Carrier Carbon Metrics list by being among the fewer than 10% of all SmartWay carriers that operate fleets efficiently enough to earn placement for reduced carbon emissions.
SmartWay also placed Penske on their Logistics Freight Management list for being among the 5% of SmartWay logistics companies that meet the emissions and carrier selection criteria. High-performing logistics companies serve their customers in manners that consider the efficiency gains and emissions reductions of a logistics fleet.