Oregon State Police are saying heavy fog contributed to a massive pileup this morning on Interstate 5 near Brownsville, about 28 miles north of Eugene.
Officials say more than 60 vehicles — including between 15 and 20 commercial motor vehicles — were involved in multiple collisions that occurred at about 8 a.m. Pacific.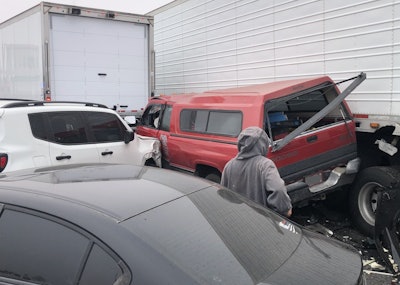 One person has been confirmed dead in the pileup that occurred on southbound I-5 near the OR 228 Halsey-Brownsville exit. The crashes span over a stretch of the interstate between mileposts 228 and 211, according to Oregon State Police.
Traffic was detoured at the OR 228 exit to OR 99E.
Northbound I-5 traffic was backed up from the Bond Butte Drive overpass for about three and a half miles, according to state police. ODOT reports that the left lane of northbound I-5 is closed at milepost 211 so southbound drivers can be turned around into the northbound lanes.
The Oregon Department of Transportation temporarily lowered the cable barrier to detour vehicles caught in the gridlock. School buses from Eugene are being used to transport stranded drivers to Pioneer Villa at exit 216.
HAZMAT crews responded to clean up fluids leaking from some six of the commercial motor vehicles involved in the crash. State police say several tractor-trailers jackknifed or rolled.