Trucking news and briefs for Friday, Oct. 21, 2022:
Three trucking leaders to be honored by American Truck Historical Society's hall of fame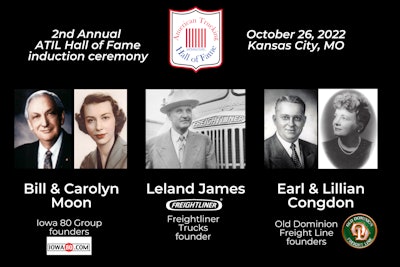 Five pioneers from three segments of the trucking industry will be inducted into the American Trucking and Industry Leader (ATIL) Hall of Fame during a ceremony at the American Truck Historical Society's home office in Kansas City on Wednesday, Oct. 26.
The 2022 inductees are:
Earl & Lillian Congdon (Old Dominion Freight Line founders)
Leland James (Freightliner Trucks founder)
Bill & Carolyn Moon (Iowa 80 Group founders)
The full event at ATHS headquarters will be held from 1-5 p.m. Central on Oct. 26, with the ATIL Hall of Fame induction ceremony being held from 1:15-2:45 p.m. The event is open to the public.
Following the induction ceremony, ATHS facility tours will be available from 3-5 p.m. In addition, there will be several trucks on the property for visitors to enjoy, and the ATHS Visitor Center will be open.
ATHS expects representation from all three companies, with confirmed attendance from the President/CEO of Daimler Truck North America, John O'Leary; the Moon Family of Iowa 80 Group; and the Congdon Family of Old Dominion Freight Line.
"ATHS is pleased to welcome back past inductee recipient and ATHS Visionary Partner, Cummins; and past inductee and radio trucking great Dave Nemo, who will be the Master of Ceremony," said Tom Mullen, ATIL Hall of Fame Chair. "We hope to continue to grow this event each year. There is no better way to honor the trucking industry than by celebrating professional drivers and trucking industry leaders."
Progressive gives away truck to military veteran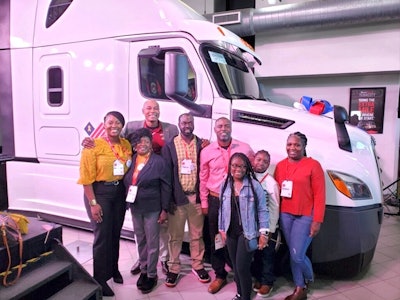 Progressive Insurance recently honored a deserving military veteran by giving away the keys to a Freightliner through the company's 10th annual Keys to Progress program. The Keys to Progress program provides reliable transportation to help military veterans and their families move forward in life.
"Keys to Progress is one of the most impactful events we do every year," said Karen Bailo, Progressive's Commercial Lines President. "We are celebrating 10 years of giving back to our veterans who have selflessly sacrificed so much for all of us. The continuation of this program has allowed hundreds of our veterans to move forward in life by providing them a personal or commercial vehicle to support themselves or their small businesses."
The recipient of the Keys to Progress truck giveaway — who has also been gifted $50,000 toward business startup expenses — is Lt. Col. James C. "JC" Rose, from Kathleen, Georgia.
Nominated by the St. Christopher Truckers Relief Fund, Rose is a 30-year U.S. Marine Corps veteran. He received the keys to a 2019 Freightliner Cascadia, which he will use as a driver for Prime, Inc. Rose plans to use this truck to help others and plans to employ fellow veterans on his fleet.
"I was humbled and honored to even be asked to apply for Keys to Progress, and now that I know I'll be receiving this truck and unbelievable care package, I'm more dedicated than ever to building a fleet and starting my own trucking business," Rose said. "I hope to hire many of the veterans I've met over the years who are struggling in their transition to civilian life." 
Rose received the truck during a giveaway ceremony on Oct. 19 at SelecTrucks of Houston.
This marks Progressive's second commercial semi-truck donation giveaway through the Keys to Progress program. Past commercial truck recipient and Army veteran-turned-truck-driver, James Rogers, has made the most of his vehicle since receiving it in 2018.
The truck giveaway is an extension of Progressive's larger Keys to Progress program. On Nov. 10, more than 100 veterans in need across the country and their families, along with 12 military-related organizations, will receive the keys to vehicles that will provide reliable transportation, helping them get back on the road and move forward in life. Since the program's inception in 2013, Progressive has honored more than 900 veterans with vehicles provided through the Keys to Progress program.
CFI encourages drivers to bring pets in trucks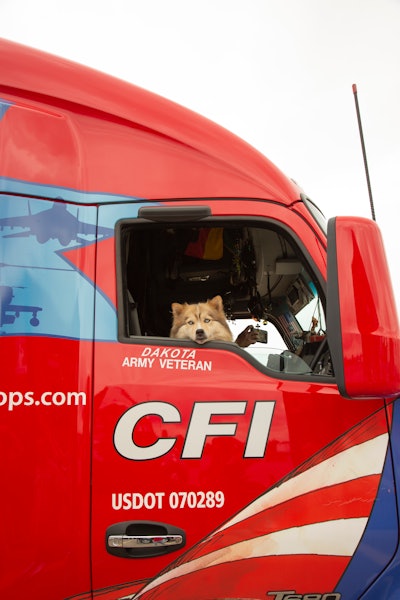 Truckload operator CFI, a subsidiary of Heartland Express (CCJ Top 250, No. 45) is doubling down on its long-standing pets ride-along program by encouraging drivers to bring their pets along with them to work.
"Life on the road can sometimes be lonely, but having a pet along for the ride provides companionship and a partner that can help ease those feelings and support a more pleasant and enjoyable driving experience," said Greg Orr, president of CFI. "That's why we sponsor a program that supports drivers who want to bring their pets to work, encouraging them to have that companion join them on the open road."
CFI noted that interviews with drivers, as well as studies, have shown that pet companionship on the road has benefits for the emotional and physical well-being of drivers.
CFI has had a pet ride-along program in place since 1995. Orr said that over the past several years, the company has seen an increase in drivers bringing their pets along for the ride. This year, CFI surpassed more than 350 drivers who bring their pets on the road with them.