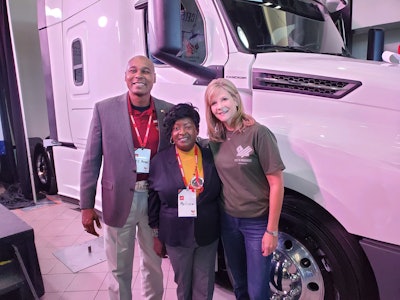 A retired 30-year Marine Corps officer is the recipient of a truck and cash in Progressive's 10th annual Keys to Progress program.
 Lt. Colonel James C "JC" Rose from Kathleen, Georgia. was given a 2019 Freightliner Cascadia and $50,000 toward business startup expenses.
The Keys to Progress program provides reliable transportation to help military veterans and their families. By providing transportation support, Progressive said it hopes to offer a little relief and support a military veteran facing tough circumstances and assist them on the owner-operator journey.
Nominated by St. Christopher Truckers Relief Fund, Rose is a driver for Prime, Inc., an organization that supports service men and women transitioning out of the military into a new career. Rose plans to use this vehicle to help others and plans to employ fellow veterans on his fleet, according to a statement from Progressive.
"I was humbled and honored to even be asked to apply for Keys to Progress, and now that I know I'll be receiving this truck and unbelievable care package, I'm more dedicated than ever to building a fleet and starting my own trucking business," said Rose. "I hope to hire many of the veterans I've met over the years who are struggling in their transition to civilian life." 
Rose received the truck during a ceremony Wednesday at SelecTrucks of Houston.
This marks Progressive's second commercial semi-truck donation giveaway through the Keys to Progress program. Past commercial truck recipient and Army veteran-turned-truck-driver, James Rogers, has made the most of his vehicle since receiving it in 2018, said the statement from Progressive.
The truck giveaway is an extension of Progressive's larger Keys to Progress program. On Nov. 10, over 100 veterans in need across the country and their families, along with 12 military-related organizations, will receive the keys to vehicles that will provide reliable transportation, helping them get back on the road and move forward in life. Since the program's inception in 2013, Progressive has honored more than 900 veterans with vehicles provided through the Keys to Progress program.
"Keys to Progress is one of the most impactful events we do every year," said Karen Bailo Progressive's Commercial Lines President. "We are celebrating 10 years of giving back to our veterans who have selflessly sacrificed so much for all of us. The continuation of this program has allowed hundreds of our veterans to move forward in life by providing them a personal or commercial vehicle to support themselves or their small businesses. Just as our veteran's commitment has endured, so will ours as we look forward to what the next decade brings."
According to Progressive, partners helping make the giveaway possible include:
SelecTrucks of Houston, is a full-service Freightliner/Western Star commercial truck dealership offering new and used commercial trucks, parts, service, and body shop.
1-800-Charity Cars, provides resources to facilitate vehicle donations, as well as titling and registration of some vehicles for recipients.
For more information on Progressive's Keys to Progress program, visit KeysToProgress.com or search #KeysToProgress on social media.