The American Trucking Associations Monday honored four individuals and organizations for their commitment to improving the public image of the trucking industry with the Mike Russell Trucking Image Award.
This year's winners include:
TrueNorth Companies, for their work with the ATA and the ATA Federation, sponsoring various industry endeavors, as well as fundraising for important industry-driven organizations like the Warrior's Drive for Hope, Florida of Honor and more
Northern Industrial Training, for creating Alaska Trucking 101 – a program that tells the industry's story to state legislators, policymakers, the press, and public
Altech Industries' Ken Calhoun, for his work with the ATA Technology and Maintenance Council's development of TMCSuperTech: The Game, as well as his efforts with the Be Pro Be Proud Vocational Tech Student Outreach program to help recruit and develop the next generation of technicians
The Alabama Trucking Association, for their efforts to promote careers in trucking with a social media campaign, billboards and broadcast commercials
First awarded in 2007, the Mike Russell Trucking Image Award is given to an individual, motor carrier, trucking organization and industry supplier who each demonstrate excellence in illustrating the industry's essentiality, professionalism, and commitment to safety on and off the highways. The award is sponsored by Great West Casualty Company.
UPS exec receives achievement award
The American Trucking Associations President and CEO Chris Spear, Monday announced that Nikki Clifton, UPS president for social impact and the UPS Foundation, was named the first winner of the newly rechristened William "John" Lex Achievement Award from the ATA Trucking Cares Foundation.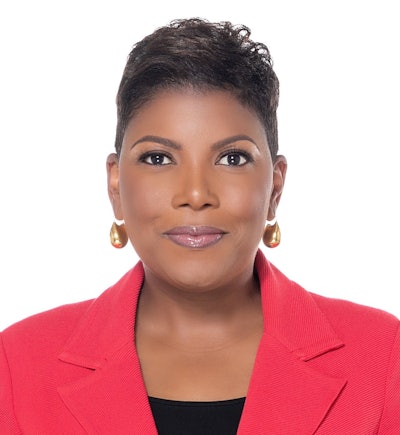 "We are proud to recognize Nikki's outstanding leadership and commitment to addressing some of our most immediate social, humanitarian and environmental needs, work that is strongly aligned with Trucking Cares Foundation's mission," Spear said. "She pioneered the largest training initiative in our industry to combat human trafficking and coordinated the in-kind distribution to COVID-19 vaccines and cold chain freezers to disadvantaged countries around the world."
In addition to her work at UPS, Clifton is a National 4-H Luminary and serves on the Board of Directors for both the Girls Scouts Nations Capitol and Points of Light.  She was also appointed to the Department of Transportation Advisory Committee on Human Trafficking and serves on the Advisory Board for the CARE Global Network Leaders. 
This marks the first time the Trucking Cares Foundation has presented the newly renamed William "John" Lex Achievement Award, which comes with a $5,000 donation to the winner's preferred charity.
Previous winners of the award include Herschel Evans, Holland Inc.; Mike Ducker, FedEx Freight; and John Lex, Walmart Transportation. 
Card receives Highway to Victory award
The American Trucking Associations Monday presented past ATA Chairman Mike Card, president of Combined Transport Inc., Central Point, Oregon, with the federation's Cathy Evans Highway to Victory Award for his advocacy work on behalf of the trucking industry.
"Mike has grown a small family trucking company into a leading employer in his home state of Oregon," said ATA Executive Vice President of Advocacy Bill Sullivan. "He has leveraged that vital economic importance to make his voice heard with leaders of Congress and his state government. He is a shining example of how our industry can innovate its message and build relationships that make a difference with policymakers that make a difference."
Named for longtime ATA lobbyist Cathy Evans, the Highway to Victory Award is presented annually to an ATA member who has made significant contributions to the Federation's advocacy efforts at the state and federal level.
ICYMI
High fuel prices top annual list of trucking industry's leading issues
ATHS announces 2nd annual Hall of Fame inductees; ceremony next week
Angel: Trucker rescues dog abandoned and tied to a tree at truck stop