There's a delicate balance when it comes to using diesel fuel to cook off NOx emissions to meet the California Air Resources Board's tough 2027 nitrogen oxide (NOx) standard, but after plenty of testing, Eaton and Tenneco are reporting success with their jointly produced integrated exhaust thermal management system.
Following their partnership in March 2021, both companies began taking a closer look at how they could lower NOx thermally with a diesel-fueled exhaust burner to meet CARB's 2027 NOx requirement of .02 g/bhp-hr without cranking up carbon dioxide.
They found success on a 2020 Cummins X15 engine equipped with their exhaust burner system, cylinder deactivation and light-off selective exhaust catalytic reduction. During low load cycle (LLC) testing at the Southwest Research Institute, NOx dropped to .02 g/bhp-hr while C02 remained neutral. (CARB's 2027 LLC requirements are .05 g/bhp-hr, or a 90% drop from current standards).
[Related: ATA panel discusses emissions reductions, sustainability]
During the Federal Test Procedure (FTP) heavy-duty transient cycle, which CARB set at .02 g/bhp-hr for 2027, NOx dropped even further to .01 g/bhp-hr. CO2, however, increased .9%.
"We can't ignore the fact that CO2 is important, even though it's not regulated," Eaton's senior chief engineer Jim McCarthy told CCJ following a webinar on the exhaust burner co-hosted by Tenneco. McCarthy added that he's "fully confident" that CO2 will drop to at least neutral "with a couple more days of testing."
Eaton and Tenneco developed the air source for the exhaust thermal management system from Eaton's TVS V180 blower for small engines of 1.5 liters or less. Dubbed the Cold Start Thermal Unit Air Source on Eaton's website, the blower is paired up with an electric motor (12- or 24-volt) that can be "efficiently and precisely controlled to maintain optimal aftertreatment temperatures."
The blower provides air to a burner provided by Tenneco, which also supplies the ignitor. The exhaust burner is mounted just ahead of the diesel particulate filter (DPF).
"That combination of the burner in front of the DPF is an excellent configuration where you can hit it hard and give an even heat flow downstream," McCarthy said.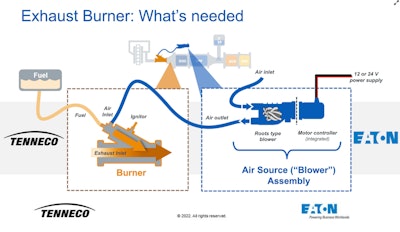 McCarthy worked alongside Tenneco's senior engineering manager Tom Harris to develop a two-tier approach to heating the exhaust burner. On cold start, the burner heats up fast to 572 degrees Fahrenheit (300 Celsius) to cook off those higher NOx levels prevalent in a cold aftertreatment system. As the engine reaches normal operating temperature, the burner takes an on/off approach for subsequent SCR temperature maintenance of 356 to 392 Fahrenheit (180 to 200 Celsius).
"The primary approach with this two-tier threshold is basically just an on-off switch where you're managing the tradeoff between tailpipe NOx, CO2 or fuel consumed by the burner," Harris said.
Burner temperature management, particularly at higher levels, is key to the system's success.
"Temperature is a double-edged sword. You want to get it hot so that you have a NOx reduction, but if you get it hot too fast and you keep it too hot, you can lose your ammonia storage, which is your reductant on your SCR," McCarthy explained.
"So really the strategy is hit it hard quickly, get it up to temperature and then shut the burner off. Let everything stabilize and then when you get down to the manageable 'stay hot regime,' where the ammonia's staying on the SCR, you're getting great NOx reduction," McCarthy continued.
A 'much more fuel efficient' method
Cooking off NOx with a diesel exhaust burner might seem counter-intuitive at a time when fleets are pushing hard to conserve fuel during historically high prices. However, pulling heat from a conventional engine to get a cold SCR quickly up to temperature to lower higher NOx levels is not exactly a fuel-efficient process.
"The engine runs in what's called thermal management mode and fuel economy mode, and thermal management mode is not insignificant," McCarthy said. "It's a ton of fuel that goes in. And what the burner allows us to do is get the aftertreatment system up hotter really quick, and then we transition from thermal management mode to fuel economy mode. And then the net difference gets us to neutrality [in terms of fuel use]."
Harris said that when it comes to heating up the SCR, it's best to get it up to temperature with a diesel-fueled exhaust burner.  
"When you do it in the engine, you can certainly, as Jim mentioned, use thermal management mode to have the engine make more exhaust heat, but also in doing that, you're sending about 30% to 40% of the fuel energy to the coolant where it's just wasted and you're having to heat up an awful lot of room temperature air being pulled into the engine," Harris said. "So if you need exhaust heat, the burner is the much more fuel efficient way of generating it."
According to Eaton's website, production for the integrated exhaust thermal management system is anticipated in 2025.