Trucking news and briefs for Tuesday, Nov. 1, 2022:
Certain bulk liquid haulers get regs relief in South Dakota
South Dakota Gov. Kristi Noem, on Oct. 26, issued a state of emergency in the state due to "extremely low inventories and outages of certain liquid products including gasoline, diesel, jet fuel, propane, ethyl alcohol, natural gasoline, diesel exhaust fluid, and anhydrous ammonia."
Noem's declaration suspends parts 390 through 399 of the Federal Motor Carrier Safety Regulations for drivers hauling those liquid products into and within South Dakota.
The declaration said that the FMCSRs "regulate the transportation requirements for drivers of transport vehicles and may unnecessarily delay the transportation of these products."
Noem clarified that the declaration does not require or allow fatigued drivers to operate commercial vehicles.
The waiver is effective through Nov. 25.
Peterbilt, Kenworth enhance remote diagnostics offerings in Paccar Solutions web portal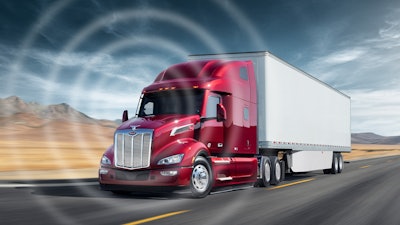 Kenworth has introduced a new way for fleets and truck operators to manage their Kenworth TruckTech+ Remote Diagnostics subscriptions online through the Paccar Solutions web portal, while Peterbilt has done the same with its SmartLINQ subscription.
By logging into Paccar Solutions, customers can quickly and easily renew their Kenworth TruckTech+ and Peterbilt SmartLINQ subscriptions, manage payment options and monitor subscription expiration dates for all their trucks. 
They also can manage subscriptions for trucks that will be added to their fleets in the future. Renewals may be made for individual units or an entire fleet. An automatic renewal option is available for added convenience. 
Kenworth TruckTech+ is standard on Class 8 Kenworth trucks equipped with Paccar MX engines and Cummins diesel and natural gas engines. The system is also optional when purchasing new Kenworth T180, T280, T380 and T480 medium-duty conventional models equipped with a Paccar PX-7 or Paccar PX-9 engine. The T280, T380 and T480 also offer the remote diagnostics system when specified with a Cummins Westport L9N natural gas engine.
SmartLINQ is standard on all Peterbilt Class 8 trucks and optional on Peterbilt's line of new medium-duty trucks.
The remote diagnostics offerings enhance vehicle diagnostics by providing real-time engine health information to fleet managers and Kenworth and Peterbilt dealers to help optimize truck uptime and productivity, and enables fleets to track the location of their trucks.
Paccar recalls small number of Peterbilt, Kenworth trucks
A small number of Kenworth and Peterbilt trucks are being recalled due to a tie rod issue, according to National Highway Traffic Safety Administration documents.
Paccar is recalling approximately 67 model year 2023 Peterbilt 348, 367, 389, 548, 567, and Kenworth T370, T480, T800, T800B, T880, W900B and W990 trucks in which the tie rod clamps may have been improperly heat-treated, causing them to fail and allowing the tie rods to separate.
Tie rod separation can result in a sudden loss of steering, increasing the risk of a crash.
Paccar said the recall population was determined by identifying chassis numbers that correspond with the date range for axle serial numbers and axle part number provided by Meritor.
Dealers will replace both tie rod clamps, free of charge. Owner notification letters are expected to be mailed Dec. 16. Owners can contact Kenworth's customer service at 1-425-828-5888 with recall number 22KWJ and Peterbilt's customer service at 1-940-591-4220 with recall number 22PBJ. NHTSA's recall number is 22V-782.