The following was published in CCJ's Air Brake Book, 11th edition, sponsored by SilverbackHD. CCJ's Air Brake Book is a complementary industry resource, courtesy of our partnership with SilverbackHD, the Technology and Maintenance Council and Commercial Vehicle Safety Alliance. You can download the entire Air Brake Book here. 
The following guidelines, gleaned from fleet managers and field service representatives, can help you make better-informed ABA maintenance and purchasing decisions:
When purchasing ABAs: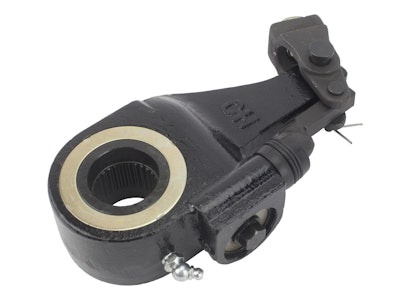 Ask for evidence of a potential ABA's performance in different climates, applications, vocations and geographic regions similar to the ones where you operate. Remember that a manufacturer may have more than one ABA offering, including a unit better suited to your operation.
Because internal contamination is an ABA's number-one enemy, ask how the ABA you're considering is sealed to keep moisture and contaminants out.
If your trucks operate in rough or mountainous terrain, pay extra attention to how the manufacturer has addressed overadjustment issues and how the design compensates for them.
If you're retrofitting, don't buy on price alone.
If you're not sure as to which ABA to go with, buy a few, install them and track their performance before committing to a large purchase.
Compare preventive maintenance requirements and field serviceability traits among several ABA brands before buying. Some ABAs may require special lubricants to perform properly. If you operate in tough conditions, units with easy field replacement characteristics may be preferred.
If you're experiencing problems with camshaft corrosion, consider spec'ing an ABA with a lubrication system that sends grease to the splines whenever it is serviced.
Consider visual stroke indicators to monitor performance of your ABAs.
When maintaining ABAs:
Make sure you incorporate ABA inspection procedures into your PM schedule, just like any other component.
Although manual slack adjusters are becoming increasingly rare, remember that manual and automatic units should never be used together on the same vehicle. Also, some manufacturers caution against using ABAs from different manufacturers on the same vehicle. There is a general consensus they should never mix on the same axle.
• Improper factory ABA installation can be a problem on new vehicles. ABA inspection should be a part of your basic pre-delivery vehicle inspection procedure.
• If you are retrofitting from manual to automatic adjusters on older vehicles, make sure technicians receive thorough training and are familiar with each type of adjuster. Compare installation requirements and interchangeability with the manual adjusters on the vehicles and suspensions you're installing them on. Don't rely on installation diagrams that depict a "typical" vehicle.
• Remember that ABA housings are larger than manual adjuster housings, and make sure there's adequate suspension clearance when the adjuster body is rotated at maximum chamber stroke.
• Bear in mind that some ABAs fit under some suspensions better than others. Some require left- or right-handed versions with an offset clevis or offset arm in order to fit.
• Remember that switching from manual adjusters to ABAs may reduce some brake maintenance expenses by lowering the incidence of human intervention in the brake adjustment process and by reducing uneven lining wear, wheel-to-wheel. But ABAs do not reduce the need to perform other brake maintenance. In fact, the use of ABAs actually increases the need of optimum brake system maintenance and performance since they tend to amplify weaknesses in brake maintenance practices and procedures. In short, for ABAs to work properly, brakes must be maintained at an optimum level. This may increase brake maintenance expenses in some fleets but pay dividends in safer vehicles and fewer incidences of unscheduled downtime.
• Always use the same slack type and brand on each axle to prevent side-to-side brake performance issues.