Bob LeBlanc, Jacobs Vehicle Systems test development truck driver and warranty manager, sat in the driver's seat of a 2018 International LT625 6×4 as he shut down the truck.
What came next is typical of heavy-duty trucks around the globe: shaking and rattling inside the cab as the diesel engine comes to a dramatic stop.
LeBlanc started the truck back up and it rattled back to life quickly demonstrating not only why current heavy-duty trucks are not good candidates for fuel-saving start-stop technology, but also why drivers find it difficult to sleep as a truck starts and stops periodically to charge up batteries for HVAC and other personal comforts.
LeBlanc then flicked over a toggle switch mounted on the dash to demonstrate Jacobs' Active Decompression Technology (ADT). Before shutting the engine down, LeBlanc prepared this reporter for the big change that was coming next.
"With the system activated you're going to feel a very smooth, wind down of the engine, and there'll be no shaking of the cab," he said, "and then on startup, you're going to hear a small whine as the engine starts with no compression,  therefore presenting less load on the starter, less load on the batteries and so on."
[Related: Engine brakes are changing to keep current with new engine designs]
As LeBlanc shut down the 13-liter International A26, the transformation was in every sense of the word amazing. The shaking and rattling was gone, replaced by a smooth and quiet transition. LeBlanc then started the truck back up. There were some slight vibrations but nothing like before.
"If you're using it for hotel loads and you're trying to sleep, you don't have the engine always waking you up every time it starts and stops," LeBlanc explained, adding that it also opens the door for elusive start-stop technology for heavy-duty trucks.
A few minutes prior to the ADT demonstration, Jacobs Systems Director of New Technology Robb Janak pointed out how ADT development opens the door for not only helping drivers to catch their Zs but also for lowering fuel consumption.
"We're hoping that it's going to improve the acceptance of start-stop because we reduce the wear of start-stop on the engine so we can get rid of idling whenever it's not needed," Janak explained.
More fuel savings, emissions reduction with cylinder deactivation
Though ADT was arguably the star of the show in terms of a dramatic before and after demo, Jacobs also let reporters get familiar with its fuel-saving and emissions-reducing cylinder deactivation (CDA) earlier this week at the Thompson Speedway Motorsports Park in Thompson, Connecticut.
In a low load cycle, Jacobs reported that its CDA and a Selective Catalytic Reduction (SCR) system delivered a 77% cut in NOx and a 12% reduction in CO2 in a Class 8 truck. Fuel economy improvements can rise as high as 25% depending on driving conditions.
"We created cylinder deactivation primarily for improving the thermal management of the engine," Janak said. "Thermal management allows us to lower NOx, lower the criteria pollutants coming out of the aftertreatment system, but we can do that also while improving fuel consumption and actually lowering CO2."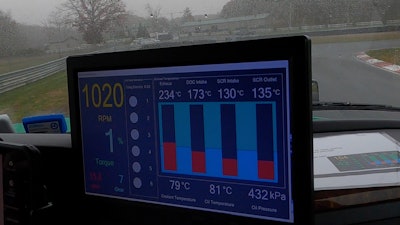 During a bobtail demonstration on the speedway in the LT625, Jacobs' Principal Engineer Justin Baltrucki explained that CDA does not activate until torque demand falls below 500 Newton meters (369 lb.-ft.). A display on the dash monitored CDA activity on all six cylinders.
"You can see when we're decelerating, we have zero cylinders active," Baltrucki said as he approached a turn. "But as we accelerate coming out of the corners here, you can see we're going to six cylinders, and then when we're down in the low torque range, we start to have four cylinders and even transition to two. And again, as we coast, we go to zero cylinders, and you can see the temperature very slowly decreases, whereas in six cylinder operation, you're pumping a large volume of cold air through the after treatment."
The goal of CDA, Baltrucki added, is to "prevent that cool off that occurs so that the heat generated during high load operation can be maintained and you can keep that SCR system at an efficient temperature."
Dynamic Skip Fire (DSF) software from Tula Technology optimizes Jacobs' CDA to help maximize fuel economy while reducing emissions.
Steve Carlson, Tula's vice president of DSF business operations, who made the trip to Connecticut from his company's headquarters in San Jose, California, explained that DSF software provides "drivability improvements for taking advantage of entering and exiting deceleration with zero cylinders, and also mixing and matching that with the heavy-duty engine braking that Jacobs is well known for."
Driving the LT625 with Jacobs' CDA is incredibly smooth considering that the truck is constantly turning cylinders on and off depending on torque demands. Janak hopes that others, including fleets, drivers, OEMs and industry associations, will soon have a chance to experience Jacobs' Drive the Future demonstration truck.
"In all parts of the world, commercial vehicle manufacturers are looking for new and improved technologies to comply with stricter legal limits on CO2 and NOX emissions," Janak said. "Cylinder deactivation is technically proven in all of the latest test measures. Moreover, CDA is a cost-effective solution that will positively impact the advance of the diesel engine into a low emissions future."