Trucking news and briefs for Monday, Nov. 7, 2022:
Iowa joins neighboring states in waiving HOS for fuel haulers
Iowa is joining a growing list of states that have waived certain hours of service regulations for fuel haulers. Neighboring states South Dakota and Nebraska also recently suspended HOS regs for certain fuel haulers.
Gov. Kim Reynolds on Oct. 28 signed a proclamation that temporarily suspends hours of service regulations for drivers hauling motor fuels including, gasoline, diesel No. 1, diesel No. 2, ethanol, biodiesel, aviation gas, and jet fuel. The order also allows these trucks to be overweight, up to 90,000 pounds, without a permit.
The proclamation cites "extensive challenges to timely access to supplies of motor fuels," as well as "long wait times at terminals" for fuel haulers.
"Long wait times at petroleum product terminals, combined with the need to truck motor fuels over long distances, make it difficult for transporters to meet demand and comply with state and federal hours-of-service requirements," the proclamation reads. It adds that the temporary suspension of hours-of-service regulations in the state "will increase the amount of these products transported" in Iowa and reduce "the damaging effects of this access constraint."
The waiver is effective through Nov. 27, unless it is canceled sooner.
Bipartisan bill would ensure work choice for independent contractors
A bipartisan bill introduced in the U.S. House on July 20, titled the "Worker Flexibility and Choice Act," would establish a new work arrangement that combines the flexibility of independent work with certain workplace protections and opportunity for additional benefits.
The bill was introduced by Reps. Henry Cuellar (D-Texas), Elise Stefanik (R-New York) and Michelle Steele (R-California).
"The classification of workers as employees or independent contractors is determined by various tests depending on the specific statute or federal agency and is further complicated by a patchwork of state and local standards," Cuellar and Stefanik said in a supporting document. "Recent policies across the country have placed overly broad restrictions on independent work that further diminish the ability of workers to choose the type of work that best fits their needs."
The bill comes amid new trucking application of California's AB 5 law and its ABC test for contractor classification that are problematic for traditional lease arrangements between motor carriers and owner-operators complying with the long-federally-recognized Truth in Leasing regulations. 
According to a press release from Cuellar when the bill was introduced, the relationship between an independent contractor and an employee would be clearly defined through a "worker flexibility agreement," which would be voluntarily agreed to before work begins.
The press release said the bill would:
Ensure the worker retains the freedom and flexibility to accept or reject offers to provide their services, giving them control over when, where and how much they wish to work
Promote worker freedom without infringing on certain workplace rights, including protections against discrimination, retaliation and harassment
Allow the worker to engage with and provide services for multiple entities at any given time
Provide the worker a written summary of any health, pension, training or other benefits they may be eligible to receive
The bill also contains a provision in which a worker flexibility agreement would supersede any federal, state or local wage and hour and tax laws that would otherwise require the worker to be treated as an employee, possibly useful to the majority of owners leased to carriers who want to retain those relationships.
Additionally, under a worker flexibility agreement, a worker would not be treated as an employee for federal tax purposes or under the Fair Labor Standards Act.
"The bipartisan Worker Flexibility and Choice Act will empower workers to choose the type of work that best fits their needs, while allowing businesses to offer workplace benefits traditionally only available to employees," Stefanik said in a press release.
When the bill was introduced July 20, it was referred to the House Committee on Education and Labor and the Committee on Ways and Means. No action has been taken on the legislation since.
Kenworth debuts autonomous T680 prototype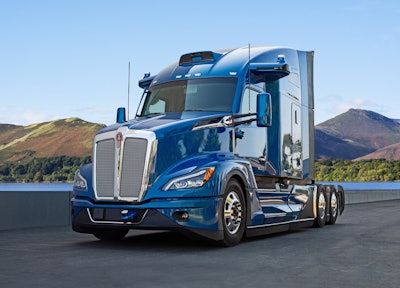 Kenworth recently debuted a T680 Next Generation equipped with the Aurora Driver autonomous system at the recent American Trucking Associations Management Conference and Exhibition in San Diego.  
The prototype Kenworth T680 provides an autonomy-enabled truck platform integrated with the Aurora Driver, a Level 4 autonomy system. The platform features new control interfaces, and redundant braking, steering and power systems to achieve the requirements needed for reliable and safe self-driving operations.
"Kenworth and Aurora are working closely together to develop next-generation autonomous trucks designed to safely and efficiently transport goods," said Kevin Baney, Kenworth general manager and Paccar vice president. "The Kenworth T680 Next Gen combines our expertise in heavy-duty truck development with the Aurora Driver system's advanced technology."
The Aurora Driver consists of sensors that perceive the world, software that plans a safe path through it, and a computer that powers and integrates the sensors and software with the truck, allowing the Aurora Driver to drive safely in autonomy on the road.
The sensors on the T680 include Aurora's FirstLight Lidar, imaging radar, and high-resolution cameras, which work together to build a 3D representation of the world, giving the Aurora Driver a nearly 360-degree view of its surroundings in real-time.