Trucking news and briefs for Thursday, Nov. 17, 2022:
Quantix adds more Gulf Coast capability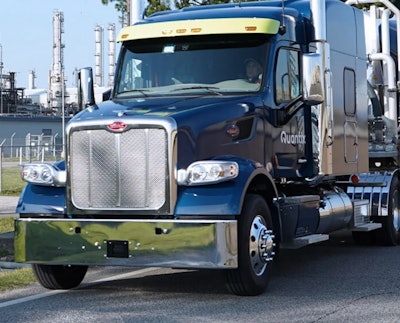 Quantix, a portfolio company of Chicago-based private equity investment firm Wind Point Partners, has acquired five companies: Dobbins Enterprises, C&S Express, Chancelor Transportation, T&K Chancelor Enterprises, and Templet Transit.
Quantix also announced it signed with a new agent, L.D. McCloud Transportation, in a deal that adds more than 140 trucks and ancillary equipment to the company's liquid and plastics transportation division. The new trucks will service customers around the Gulf Coast including Houston, Baton Rouge and Port Allen, Louisiana, and Meridian, Mississippi.
"Quantix continues to scale our services in Texas and the Gulf Coast regions, and these new assets strengthen our ability to do so," Chief Executive Officer and President Chris Ball said of Quantix ninth, tenth, eleventh, twelfth and thirteenth acquisitions since the company was bought by Wind Point Partners. "Greater capacity means better service for our customers, which remains the guiding purpose of our continued growth." 
Quantix last month acquired G&W Tanks, a provider of ISO tank transportation and ISO tank repair, ISO tank storage depot, wash and loading services. 
Penske adding renewable diesel to Calif. locations through Shell partnership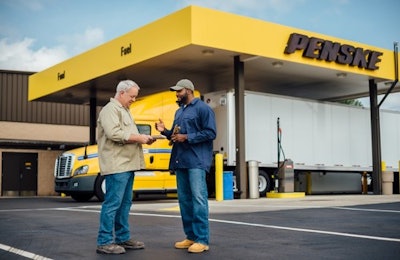 Penske Truck Leasing has expanded its use of renewable diesel in California through a preferred supplier agreement with Shell Oil Products U.S. The move is a continuing effort by Penske to help reduce emissions across its truck rental, heavy-duty truck leasing and logistics fleet operations.
"In California, renewable diesel provides a realistic pathway for fleets to reduce emissions from well to wheel as the industry continues to decarbonize," said Josh Tippin, vice president, energy and fuel supply at Penske Transportation Solutions. "Collaborators like Shell are essential in supporting our fleet sustainability efforts by securing and supplying lower-carbon fuel sources such as renewable diesel and collaborating with us on other carbon reduction initiatives."
All vehicles refueling at Penske Truck Leasing's 32 locations equipped with fuel islands in California are now receiving renewable diesel at its pumps.
Penske plans to expand its use of renewable diesel in other markets as supply increases, and as carbon compensation programs for replacing traditional diesel fuel with renewable diesel become more widely available.
According to the California Energy Commission and California Department of Tax and Fee Administration statistics, approximately 3 billion gallons of diesel fuel is sold annually in the state, with only about a third being sold as renewable diesel.
Penske first piloted renewable diesel in Southern California for several months to ensure there were no adverse effects on vehicles or their operation. To the contrary, Penske found an overall net positive effect on the vehicles related to renewable diesel.
Of note were reduced maintenance-related issues along with the added benefits of lower overall emissions and a cleaner fuel compared with traditional ultra-low sulfur diesel. The renewable diesel provided by Shell is fully compatible with all diesel engines and has a higher cetane level.
[Related: Highly incentivized renewable diesel impacting supply, price of conventional diesel]
UPS manager named 2022 Influential Woman in Trucking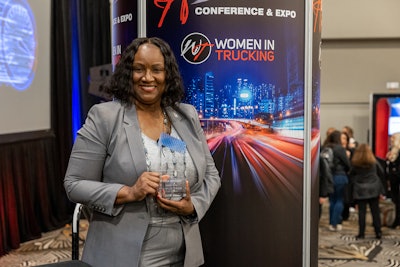 The Women in Trucking Association (WIT) presented Trina Norman, UPS' Southern California Feeder Operations Manager, with the 2022 Influential Woman in Trucking award. The award is sponsored by Daimler Truck North America (DTNA) and recognizes the achievements of female role models and trailblazers in the trucking industry. 
The winner was announced during the WIT Accelerate! Conference & Expo in Dallas. The announcement came after the panel discussion, "When Remarkable Women Do Remarkable Things." Panelists consisted of the finalists for the 2022 award: Jill Quinn, president, Centerline Drivers; Mari Roberts, vice president of transportation, Frito-Lay; and Lindsey Trent, president and co-founder, Next Generation in Trucking Association. The panel discussion was facilitated by Kelley Martin, director of strategic pricing, Daimler Truck North America. 
"While all four finalists were exceptional, Trina Norman stood out due to her passion in giving back to her community while supporting her team and her company as she leads them toward success," said Ellen Voie, WIT president and CEO. 
Norman's employment with UPS spans three decades in which she has proven to be a well-rounded leader and a global citizen. She is a member of Delta Sigma Theta Sorority, Incorporated, where she has served as an activity member for 24 years. She also mentors and sponsors young college students to achieve their academic goals while attending college.  
Her mission is to recruit, empower, mentor and encourage women to join the elite women behind the wheels at UPS.
UPS completes acquisition of multi-national healthcare logistics provider
UPS (CCJ Top 250, No. 2) has closed on its previously announced acquisition of Bomi Group, an industry-leading multi-national healthcare logistics provider. Through the acquisition, the company's healthcare unit, UPS Healthcare, will add temperature-controlled facilities in 14 countries and 3,000 employees to the UPS team across Europe and Latin America.
The company will operate under the new name Bomi Group, a UPS Company. Bomi Group CEO Marco Ruini will join the UPS Healthcare leadership team. UPS Healthcare customers now have access to 216 facilities with a total of 17 million square feet of cGMP and GDP-compliant healthcare distribution space in 37 countries and territories.
"Together with Marco Ruini and the Bomi team, UPS Healthcare will deliver even more sophisticated and globally integrated solutions to our customers throughout Europe and Latin America," said Kate Gutmann, executive vice president and president of UPS International, Healthcare and Supply Chain Solutions. "Our combined team, vehicles, and advanced facilities will allow us to expand our pan-European cold chain network and bring the next generation of healthcare logistics solutions to our customers."
The UPS Healthcare team has developed a detailed transition plan to support the continued growth of the business while further connecting cold chain capabilities to major European and Latin American gateways.