Fleets spend years poring over the science of a truck spec. An axle ratio, aero package – even a change in engine oil viscosity – can lead to big money savings and efficiency gains, but all the general public sees is the cab and trailer. A 10 mpg spec may be a boon for the bottom-line, but to passers by, that aspect of trucking is a giant "meh."
Trucks and trailers are 70-feet of blank canvas with unlimited possibilities for showcasing a company's heritage, its values and its strengths, and they are a carrier's most visible – and most mobile – means of marketing. It's an opportunity to tell a story to thousands of people every day. 
Since 1978, CCJ has recognized excellence in fleet graphics design and execution among carriers willing to invest in their own imagination.
The judges for this year's Five Flashiest Fleets, sponsored by 3M, include an 11-person panel from the editorial, art design and marketing staffs of CCJ and fellow Randall Reilly publications Overdrive; Trucks, Parts, Service; Successful Dealer; and Truckers News. Voting was also open to readers. 
Each judge scored their favorites out of 100 submitted entries, and scores were weighted to determine a final ranking. 
5. R.E. Garrison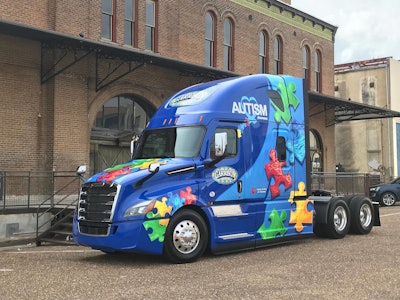 R.E. Garrison Trucking partnered with the Autism Society of Alabama to spread awareness and support those impacted by autism. The Autism Society of Alabama helped ensure the message and photos correctly represented the autism community. 
Magan Bartlett, R.E. Garrison's communications business partner and human resources, said the truck is used at various awareness campaigns and Touch-A-Truck events, including the Cullman County, Alabama, Fair Parade; Brewbaker Primary School Autism Parade in Montgomery; private tours with those impacted by autism; and Touch-a-Truck at Grand River in Leeds, among others.
"We introduced the truck in March of 2020 and the original plans were to attend the Autism Walks in April of 2020, but it was cancelled," she added. "They are planning on having their first walk since the pandemic in April of 2023 of which we will be present."
Why we liked it: R.E. Garrison's multiple themes show a clear devotion to lending space on their rigs to causes needing a boost in awareness from all of us, down to in at least one case integration of the theme into the company logo. All three distinct designs here are expertly executed, no doubt eye-catching and digestible for the passing motorist or fellow trucker on the road. The company clearly takes pride in being a vehicle not only for-profit but for boosting the profile of all of these causes, and doing so in ways that some might say minimize the company for the benefit of the cause. That's worth celebrating. – Todd Dills, editor, Overdrive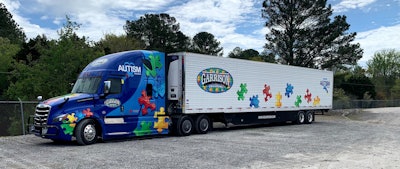 4. CFI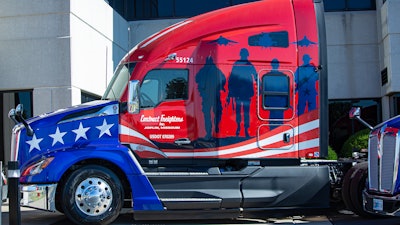 CFI's branded programs True to the Troops and She Drives were designed to create a dedicated community for military drivers and female drivers in the industry. The company's She Drives trucks come equipped with additional security features on keys for trucks (and a one key per truck policy), and the program itself includes awarding select female drivers with custom wrapped trucks as a testament to the carrier's commitment to support women in the trucking industry. Select military drivers are bestowed custom wrapped True to the Troops trucks in honor of their service.
In order to be selected to drive one of the fleet's "special" trucks, the driver themself needs to be special. Senior Marketing Manager Katlin Owens said the fleet selects "outstanding individuals to represent the truck, whether it is True to the Troops, First Responder, special edition trucks, People Drive Possibility or She Drives CFI."
The carrier looks at a driver's service history, community involvement and overall standing in the community, and evaluates each candidate's driving record. "We want someone with a passion for education," Owens said. "These trucks go to events around the country, including parades, safety presentations, school visits, [haul] charity loads, etc… and there is always an opportunity to teach the general public about the trucking industry."
Why we liked it: The bright colors and bold designs on CFI trucks are striking and evoke emotion, like pride and excitement, upon seeing them. While its company logo is present, the design is allowed to take precedence like an analogy for its driver-first mentality. CFI's She Drives initiative strives to create an environment where women feel safe, supported and happy, and its True to the Troops initiative supports careers for U.S. military veterans. The company's drivers include 14% veterans and 14% women. – Angel Coker, senior editor, CCJ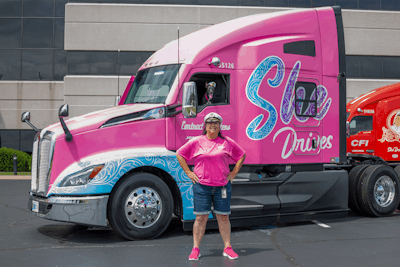 3. Cedarpoint Trucking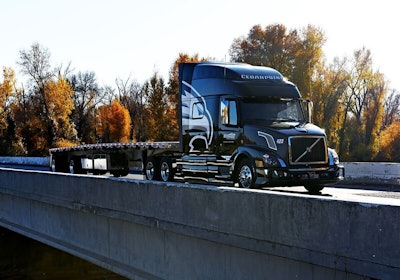 The Cedarpoint name is rooted in local history. The company was founded in 1980 by Craig Leatham and Mark Jensen, and Jensen's father developed a portion of land south of the company's headquarters in Rexburg, Idaho, called Cedarpoint Acres. "This unique area allowed eagles to live and flourish," recalled Office Manager Kasey Miskin, adding that in 2013, the company transitioned to their sons to continue the legacy of Cedarpoint.
The company's current CEO Bron Leatham ushered in the second generation of ownership and his team helped navigate the company's transition from the age of old stacks and chrome to a more sleek and aerodynamic design, but at the same time Cedarpoint wanted a truck and trailer design that offered something unique. 
The eagle is a front-and-center design feature on the company's rigs – "something that our drivers would be proud to drive," Miskin said, noting the eagle represents loyalty, devotion, freedom, truth and honor; "the same attributes Cedarpoint strives for." 
Why we liked it: I really love how Cedarpoint extended and flowed their fleet graphics through their trailers while still allowing the truck to be visually impactful on its own. The eagle represents speed, power and strength while driving down the road, which is also evident in their color choices. The company's high quality fleet equipment is associated with professional and quality drivers. – Karine Parker, senior creative director, Randall Reilly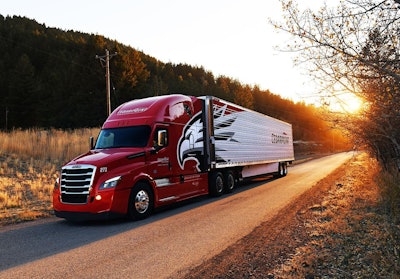 2. Skikos Trucking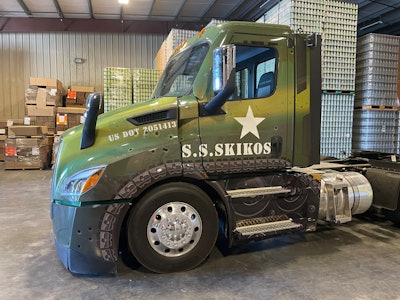 What started as a fun project initiated as a way to get owner Shad Skikos' young daughter Sailor involved has morphed to bringing joy to all those that now get excited as to what the next wrap will be. The company's fleet has more than 40 trucks featuring more than 30 unique designs. 
"Influence in the designs started with requests; lots of animal designs, horses, farm animals, leopard, tiger, etc… And (Sailor) would have final say during the proofing process if we went with the design," said Bonnie Bryen, who handles design and implementation. "Over the years she has continued to be the determining vote on what designs are produced, and although I have a lot of freedom to suggest designs, there are also specific requests from Sailor, neighbors' kids and sometimes even the drivers themselves." 
While the designs seem random and span a wide variety of themes, Bryen said that is actually part of the marketing. "There are so many fleets out there that have a unified appearance, and although I agree this is important for building a brand, Skikos taking it to the other extreme has actually been an extremely successful marketing concept," Bryen said. "By varying the designs, it keeps people talking about the trucks and Skikos Trucking. People 'collect' designs they have seen and will even talk about which ones they have seen or not seen yet." 
Why we liked it: This is a prime example of going outside the box, having a good time and just going with it. A marketing concept doesn't always have to be rigid and specific. These graphics packages scream 'fun,' and almost nothing about these trucks scream, "Hey, we're a trucking company." And that's perfectly all right. If trucking's future hinges on its ability to capture the attention of today's youth, these trucks certainly fit the bill. – Jason Cannon, chief editor, CCJ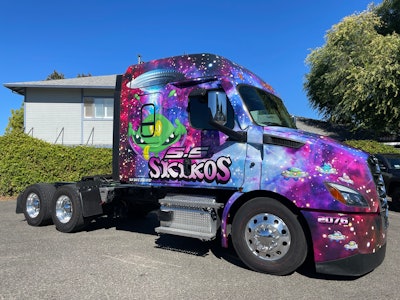 1. Leonard's Express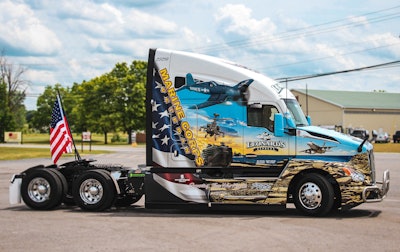 These trucks are part of the Leonard's Express Military Wrapped Truck Program. The carrier selected a handful of veteran drivers to honor and represent their branch of service through these wrapped trucks. Designers worked directly with the drivers on the wrap design. "We started this program to show our veterans that we are incredibly proud of their service, and that they have chosen Leonard's Express to drive for," said Marketing Specialist Madison Pfeiffer.
Drivers are involved in the design process. They are given some options to choose from in terms of layout, but drivers are able to request certain customizations. "For instance, one of our drivers actually displayed a memorial on the back of his truck honoring the soldiers, his friends, that had passed during their deployment," Pfeiffer said. "Also, one of our USMC veterans honored his branch of service with the quote 'Uncommon valor was a common virtue,' which was said about those who fought in the battle of Iwo Jima, and is now the quote that represents the servicemen who received their Medal of Honor after that battle." 
To be selected to drive the themed rigs, drivers provide information to an internal review committee, including what branch of the military in which they served, how long they served and a brief statement about why they wanted to participate in the program. To be considered for the assignment drivers needed to have a clean driving record (i.e., no accidents or tickets), and once all applicants are vetted and approved, finalists are sorted by terminal location and randomly selected.  
"In addition to the sense of pride inspired by the military-branded trucks, we have pledged to donate one cent for every mile each truck travels over the next four-to-five years,"  Pfeiffer.said. "The proceeds will go to a charity that supports veterans. The drivers get to select the charity." 
Why we liked it: Leonard's Express is military-friendly company, and it boldly conveys that message with its trucks. The vibrant graphics recognizing branches of the U.S. military and the slogan, 'Supporting Those Who Keep Us Free,' communicate the fleet's commitment to hiring veterans. The trucks are sure to catch the eyes of veterans making the transition to civilian employment — even at highway speeds. – Holley Young, social media coordinator, Randall Reilly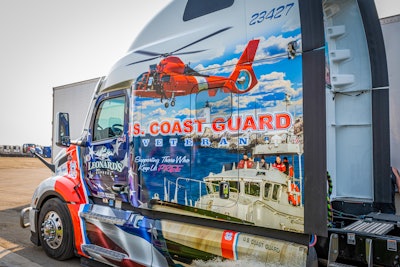 –
3M is proud to sponsor CCJ's "Five Flashiest Fleets" contest and congratulates all participants on their creativity and innovation. 3M is dedicated to helping fleets boldly share their brand message and vision through fleet graphics. Fleet graphics receive an average of 30,000 impressions per day, generating nearly 4x online activations per ad dollar than TV, radio and print, making them the most cost-effective form of advertising. Click here to learn about Fleet Products by 3M.