Trucking news and briefs for Tuesday, Nov. 22, 2022:
20 convicted in Calif. CDL fraud scheme
U.S. Attorney Phillip A. Talbert announced last week the completion of prosecutions of 20 defendants in a series of DMV corruption cases in which hundreds of fraudulently obtained commercial driver's licenses were issued. The defendants were tried and charged in the Eastern District of California.
Charges against the defendants included:
Bribery of public officials
Identity fraud
Unauthorized access of computers
Conspiracies to commit those offenses
The defendants included DMV employees who took bribes, trucking school owners and affiliates who bribed them, and others who participated in the conspiracies, according to a news release from the U.S. Attorney. The criminal activities charged in these cases took place throughout California, including the Central Valley, Los Angeles Basin, and as far north as Eureka.
A statement from the U.S. Attorney's office said defendants "helped put unqualified commercial drivers on the nation's highways operating large commercial vehicles even though those drivers had not passed the necessary written and driving tests."
DMV employees are said to have accepted bribes to enter fraudulent test scores for applicants who had not even taken the tests or who could not pass them.
Various trucking schools in California allegedly looked for corrupt DMV employees they could bribe to help failing or unqualified students get their commercial licenses anyway. In total, hundreds of fraudulent commercial driver license permits and licenses were issued as a part of these schemes, jeopardizing public safety, Talbert said.
Every defendant charged in the cases has now been convicted and sentenced, except for one who passed away prior to trial. Sentences ranged from six months of home confinement to five years in prison.
Mack names new president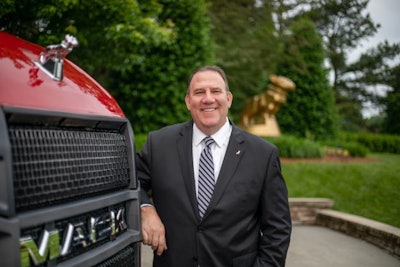 Mack Trucks on Monday announced that effective Dec. 1, Jonathan Randall will be the president of Mack Trucks North America, reporting to Martin Weissburg, global president of Mack Trucks and chairman of Volvo Group North America.
Randall joined Mack in 2016 as senior vice president – North American sales, and served most recently as senior vice president – North American sales and commercial operations. He brings more than 25 years of commercial vehicle experience to the role, with original equipment manufacturer (OEM) leadership positions in truck sales, product marketing, truck leasing and aftermarket parts and service.
"Jonathan is a proven leader who is passionate about working with our dealers and customers to grow Mack's business as we introduce new services and products to the North American market," said Weissburg.
Randall, who has a bachelor's degree from Colorado State University, will continue to be based at the company's headquarters in Greensboro, North Carolina. 
New York modifying HOS for intrastate fuel movement
The State of New York Department of Transportation has modified hours of service regulations for haulers of certain fuels through Nov. 30.
The order, issued Nov. 16, cited a supply chain issue resulting in the shortage of petroleum products used for winter heating and transportation. Hours of service regulations contained in the New York Code (17 NYCRR 820.6) for intrastate transportation of fuels is modified as follows:
The 70-hour maximum on-duty period in 8 days is modified to be 84 hours
The 60-hour maximum on-duty period in 7 days is modified to be 74 hours
The 14-hour maximum workday is modified to be 16 hours, and an 8 hour off-duty period must be taken to reset the 16-hour provision
The 34-hour restart provision is modified to be 24 hours
On-duty time for the purposes of computation of the 60/70 or 14-hour rules shall not include time spent waiting in a CMV while on the property of a hazardous materials shipper or carrier, loading/unloading point, or terminal immediately subsequent to or preceding loading/unloading operations