Trucking news and briefs for Monday, Nov. 28, 2022:
Truck tonnage sees biggest monthly drop since beginning of pandemic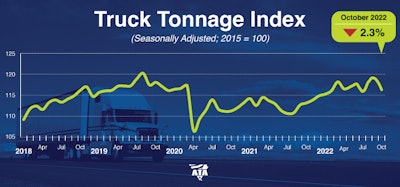 American Trucking Associations' advanced seasonally adjusted (SA) For-Hire Truck Tonnage Index decreased 2.3% in October after rising 0.8% in September. In October, the index equaled 116.3 (2015=100) versus 119.1 in September.
"For-hire truck tonnage saw the largest single monthly decrease in October since the start of the pandemic," said ATA Chief Economist Bob Costello. "The decrease fits with the anecdotal reports of a muted fall freight season. It also coincides with a slowing economy. Housing is a weak spot in freight in addition to a slowing in personal consumption of goods. While factory-related freight is holding up better than other areas, it is also decelerating."
Compared with October 2021, the SA index increased 2.8%, which was the fourteenth straight year-over-year gain, but the smallest gain since April. In September, the index was up 5.7% from a year earlier. Year-to-date through October, compared with the same period in 2021, tonnage was up 3.9%.
The not seasonally adjusted index, which represents the change in tonnage actually hauled by fleets before any seasonal adjustment, equaled 118.9 in October, 0.4% below the September level (119.3). ATA's For-Hire Truck Tonnage Index is dominated by contract freight as opposed to spot market freight.
HHG foreman sentenced for role in racketeering conspiracy
On Nov. 1, the U.S. District Court for the Southern District of Ohio sentenced Akhliddin Kalonov to four years of probation and a $100 special assessment for his role in a racketeering conspiracy related to a moving company enterprise.
According to the Department of Transportation Office of Inspector General, in May 2022, Kalonov pleaded guilty in the case.
An investigation revealed that, from at least July 2016 until November 2017, Kalonov, along with other members of the enterprise, controlled several moving companies that defrauded, extorted, and stole customers' household goods. After loading customers' goods onto trucks, the moving company increased prices and held the goods hostage until customers paid the inflated prices.
The enterprise also charged customers for moving more cubic footage of household goods than the actual amount of the goods, and some customers' loads were not delivered at all.