Trucking news and briefs for Tuesday, Nov. 29, 2022:
ATRI seeks input from victims of predatory towing
The American Transportation Research Institute (ATRI) on Monday issued an open call for motor carriers and drivers that have been victims of predatory towing. The group opened a survey, which can be found here, to collect data on the impact of predatory towing in the trucking industry.
"We all know that predatory towing is an issue, yet until now there has been no robust analysis on how, when, and where it happens or the impact of legislation designed to regulate these predatory practices," said Shawn R. Brown, Cargo Transporters Vice President of Safety. "By participating in ATRI's data-driven research, carriers will be helping to answer these questions and outline solutions."
Predatory towing is any incident in which a tow truck operator egregiously overcharges, illegally seizes, damages by use of improper equipment, or withholds release of a truck and/or cargo. Recognizing its persistent negative impact on the industry, ATRI's Research Advisory Committee (RAC) identified the need to better understand this problem as a top research priority earlier this year.
The short survey asks fleets to share which types of predatory towing they deal with most frequently, what fees or delays they consider predatory, and in which states they have encountered predatory tows. It also seeks participants for a second round of more detailed data collection that will allow ATRI to quantify the frequency and operational impact of each type of predatory event. All data collected will be kept completely confidential.
Averitt opens new Memphis-area facility
Averitt Express (CCJ Top 250, No. 26) recently opened a new 260,000 square feet facility in the Memphis area slose to the Memphis International Airport and the Memphis area railyard, The area is in the heart of one of the nation's busiest manufacturing and customer-dense regions, as it's within a day's reach of numerous major markets including Atlanta, Cincinnati and Dallas.
The new facility raises the company's total warehousing space to over 2.5 million square feet of space across more than 40 locations.
"We've eagerly awaited the opening of our Memphis distribution & fulfillment facility," said Ed Smith, Averitt's vice president of distribution and fulfillment. "It just took the right partnership with the right facility. And once we found that, it created the perfect opportunity. Memphis is one of the largest intermodal markets in the country."
For-Hire Trucking Index suggests rate bottoming process underway
The latest release of ACT's For-Hire Trucking Index, a monthly survey of for-hire trucking service providers, showed the Supply-Demand Balance increased as volumes ticked up, and freight rates continue to decline.
"The reading reflects a loose trucking market and a late stage in the freight cycle," said ACT Research Vice President & Senior Analyst Tim Denoyer. "We believe the bottoming process has begun, and it's possible that supply factors – including tight diesel inventories – could shorten the downturn."
ACT estimates show spot rates are further below costs than ever before, "which could shorten the bottoming process," Denoyer said. "We also polled our fleet friends on contract terms and found some shippers pressing for more shorter-term contracts." 
"The seeds of the next tighter environment are being sown as rising costs and falling spot rates threaten the viability of the significant small fleet capacity which has recently entered the industry," he added, "and for the mostly larger fleets in our survey, capacity growth has slowed for three straight months."
Tesla CEO says electric Semi passes 500 mile, 81K test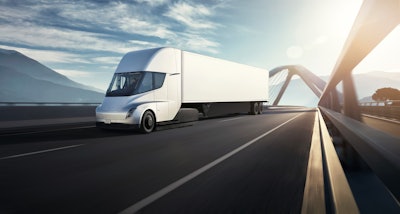 With initial delivery set for Thursday of an all-electric tractor that was originally due in 2019, Tesla CEO Elon Musk on Saturday tweeted that his long-awaited Telsa Semi Class 8 truck made a 500-mile trip while grossed to 81,000 pounds. Electric trucks get a 2,000 pound cargo weight exemption, allowing them to gross upwards of 82,000 pounds. 
Musk offered no additional details on the trip – like whether or not the truck stopped to charge along the way; how long the trip took, when it took place and in what part of the country; or how much of the 81,000 pounds is the truck itself. 
Pepsi is set to take delivery of the first production Semis Dec. 1, and during the company's third-quarter earnings call, Musk announced Tesla would produce 50,000 Semis a year starting in 2024.