Trucking news and briefs for Wednesday, Dec. 7, 2022:
Nearly 26,000 Navistar trucks, buses recalled over lock nuts
Navistar is recalling approximately 25,822 trucks and buses because the hex flange lock nuts, used in the suspension and steering joints of the affected units, were improperly heat treated and may break, according to National Highway Traffic Safety Administration documents.
On the trucks side, affected trucks include model year 2021-2022 International CV Class 4/5 trucks, 2022-2023 International HV severe-duty trucks, 2023 International HX severe-duty trucks, 2023 International LoneStar, 2023 International LT, 2023 International MV medium-duty trucks, and 2023 International RH regional trucks.
The recall states that broken hex flange lock nuts may cause a loss of tension, leading to steering instability, and increasing the risk of a crash.
Dealers will replace the hex flange lock nuts as necessary, free of charge. Owner notification letters are expected to be mailed Jan. 20, 2023. Owners can contact Navistar's customer service at 1-800-448-7825 with recall number 22524. NHTSA's recall number is 22V-869.
NTTC names Driver of the Year finalists
The National Tank Truck Carriers recently announced the eight Champion Finalists for its 2022-2023 Professional Driver of the Year contest, sponsored by Great West Casualty Company.
The finalists include:
Jefferson Benjamin, SWTO, LLC
David Lepak, Quality Carriers (No. 40)
Jerry Locke, Kenan Advantage Group (No. 20)
Robert Newsome, Cox Petroleum Transport
David Powell, Usher Transport, Inc
Pamela Randol, Highway Transport Logistics, Inc.
Kenneth Tolliver, G&D Trucking/Hoffman Transportation
Collectively, these eight drivers have amassed 21.7 million accident-free miles within 230 years of commercial trucking experience.
The Grand Champion of the 2022-2023 Professional Driver of the Year contest will be crowned during the NTTC Annual Conference, held May 20-23, 2023, in Boston.
According to NTTC, the Grand Champion will serve as the face of the tank truck industry, representing NTTC at safety-focused events throughout the year and sharing NTTC's mission of safety and education with the general public.
Peterbilt Technician Institute graduates 100th class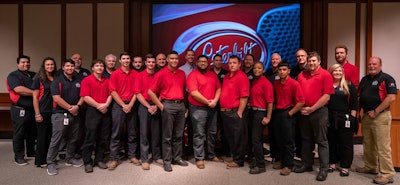 Peterbilt announced Tuesday that the Peterbilt Technician Institute (PTI) recently graduated its milestone 100th class.
The 10 graduates of the 12-week advanced technician program are among the nearly 1,000 PTI factory-certified technicians that have been trained and placed at Peterbilt dealer service locations since the launch of the program in 2013.
The PTI graduates participated in a graduation ceremony attended by Peterbilt and Universal Technical Institute (UTI) staff, as well as their new employers from the Peterbilt dealer network, including Rush Peterbilt Truck Centers, Jackson Group Peterbilt, JX Truck Center – Peterbilt and TLG Peterbilt. The graduation ceremony represented achievement for the PTI graduates in obtaining their goals and progress for the Peterbilt dealer network to meet the growth and increased demand to service customers and maximize uptime.
"We're proud of the graduates and the valuable contributions they will make to the industry with the knowledge and technical skills needed to be successful and maximize uptime for our customers" said Casey Theis, Technician Program Manager of North America.
PTI is a collaborative program with UTI and serves as a resource for the Peterbilt dealer network to help recruit and hire highly prepared factory-trained technicians. With campuses located in Lisle, Illinois, and Dallas, Texas, every PTI student earns Peterbilt factory certifications that include Paccar MX-11 and MX-13 engines as they embark on a rewarding career in the diesel industry.