DHL and Ford Pro announced a partnership this week that will see 2,000 electric E-Transit vans going to DHL locations around the globe by the end of 2023.
DHL's Palo Alto, California location will be getting 45 vans by the end of this year. DHL is also planning to order 180 more electric vans to join its eco-friendly fleet in the U.S. and Mexico over the next two years.
"Electrification of last mile logistics is a major pillar to decarbonize our operations," said Anna Spinelli, chief procurement officer and head of mobility at Deutsche Post DHL Group.
"Adding the new Ford E-Transit to our global fleet of around 27,000 electric vans further strengthens our capability of providing green delivery services worldwide. Joining forces to address our logistics specific requirements will drive operational and service efficiency further."
[Related: EV range extended with low rolling resistance tires]
E-Transits will be replacing diesel vehicles at DHL's Palo Alto branch according to Tim Baughman, general manager of Ford Pro North America.
E-Transit's range of 126 miles from a 68 kWh lithium iron phosphate battery proved to be a good match for DHL which has already had E-Transits working in Palo Alto through a pilot with Ford.
"We've been working with them a lot about where we deploy those and this fits well within their expected daily range right now," Baughman said.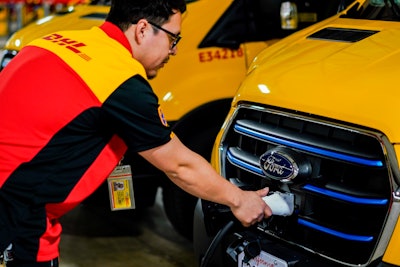 Agreements are still pending regarding maintenance, battery lifecycle management (second life use cases, recycling and disposal) and charging.
According to Ford's specs on its website, Level 3 DC fast-charging at 115 kW will take an E-Transit from 15 to 80% state-of-charge in 34 minutes; a Level 3, 50kW charge pushes that time out to 65 minutes; a Level 2, 240-volt AC charge at 48 amps will fully charge the van in 8 hours; a Level 2, 30-amp, 240-volt charging session takes 12 hours.
Though they save plenty of time over slower AC charging, DC fast-chargers cost more to install and maintain and "are more likely to trigger demand charges than Level 1 and Level 2 charging," according to the Department of Energy.
DHL's pilot with Ford will help guide them in finalizing their charging options.
"DHL's a good strategic partner with us. We've been piloting with them and they've got some decisions to make as they're looking at usage cycles on the vehicles," Baughman said. "There's a big cost difference between types of charging so we're working with them as they go through that decision process."
Like other fleets, DHL's transition to all-electric will be hastened by supply chain constraints. As an example, Baughman said a fleet with 10,000 vehicles seeking to make the switch to all-electric could expect to swap out 10 to 15% of their internal combustion vehicles with EVs each year which could add up to a 10-year wait.
DHL is gearing up to replace 60% of their U.S. fleet with EVs by 2030.
"The semiconductor shortage and Covid has actually increased the aging of the fleet and delayed the turnover because a lack of production," Baughman said. "This will happen over time…there's not enough production capacity to turn the whole fleet over in a year." 
In the meantime, fleet interest in the van continues to grow. Year-to-date U.S. sales of E-Transit through November exceeded 5,800 units.
"It's been a great, great, great success," Baughman said. "We're very happy with our customers and they're very happy with it as well."