Trucking news and briefs for Thursday, Dec. 8, 2022:
Ryder takes delivery of seven electric Volvo trucks
Volvo Trucks North America has delivered seven Volvo VNR Electric trucks to Ryder System, Inc. (CCJ Top 250, No. 14) to support local supply chain routes servicing the Volvo Group's truck assembly operations in Pennsylvania.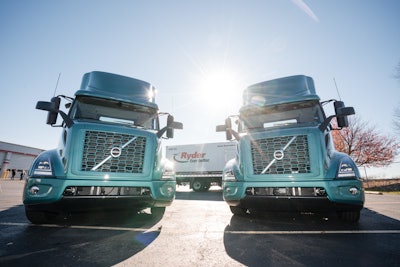 "Volvo Trucks is committed to building a decarbonized future and working with supplier and carrier partners, such as Ryder, who are committed to sustainability," said Peter Voorhoeve, president, Volvo Trucks North America. "One of our core company values is environmental stewardship, and by manufacturing and utilizing our own zero-tailpipe emission trucks, we are making good on our promise to lead the commercial transport industry toward more sustainable solutions by advancing electromobility." 
Volvo Financial Services (VFS) worked with Ryder to place all seven of the VNR Electric trucks on five-year vehicle-as-a-service fair market value (FMV) leases. The FMV lease model, which allows a fleet to lease a vehicle for a specified time period, provides the option for Ryder to purchase the Volvo VNR Electric trucks at the current market cost at the end of the lease term. The leasing program with VFS helps to lower the upfront investment and risk while fleets continue to evolve experience and offerings with battery-electric trucks, Volvo said. 
This month, Ryder began operating the Volvo VNR Electric trucks on two shifts completing up to eight round trips daily, with all seven trucks transporting assembly kits of components for heavy-duty trucks at the nearby kitting facility to Mack Trucks' Lehigh Valley Operations (LVO) plant in Macungie, Pennsylvania. To charge the vehicles, Ryder will utilize five mobile 50 kW chargers available at the plant, which will be replaced with six permanent chargers — five 100 kW chargers and one 150 kW charger — which are currently being installed.  
Detroit produces millionth engine at Redford, Michigan, facility
Detroit on Wednesday announced a significant milestone in their heavy-duty engine production (HDEP) with its one-millionth engine produced at the manufacturing facility located in Redford, Michigan.
The HDEP product family at Detroit includes the DD13, DD15 and DD16 engines, all produced in-house.
"Detroit has been building world-class, state-of-the-art engines with industry-leading technology for over 84 years," said Matt Pfaffenbach, head of operations at Detroit. "The campus is home to 2,900 employees. Our work is built on a foundation of pride, hard work and innovation. We are extremely proud of this achievement and the advancements we bring to the industry."
Detroit is the only manufacturer to offer a 16-liter engine in the industry and provides engines for both on-Highway and vocational commercial customers. Detroit maintains a standard to improve engine fuel economy by 5% every two to three years.
SoCal law enforcement warn of increased common powertrain controller theft
The Bakersfield (California) Police Department and the San Bernardino County (California) Sheriff's Department are warning of a local and national rise of common powertrain controller (CPC) thefts out of trucks.
"Trucks are being targeted anywhere they are parked and left unoccupied. Many thefts have occurred at repair shops, truck yards, or even dirt lots used to store parked trucks," the San Bernardino County Sheriff's Department said in a Facebook post.
The Bakersfield Police Department offered the following tips for truck drivers and owners to mitigate the risk of CPC theft:
Park in an illuminated area and position your truck in the view of surveillance cameras
Park in parking lots with security personnel. If traveling, plan ahead to locate safe areas to park.
Install an alarm system on your vehicle
When exiting your vehicle, roll up all windows, lock the doors, and ensure your keys are in your possession
Enable password protection for the CPC. Contact the vehicle manufacture for more information.
Remain vigilant and report suspicious persons to law enforcement
Earlier this year in May, Daimler Truck North America announced the launch of a broad company initiative to fight the theft of CPC modules from its vehicles.
"Reported thefts of CPC4 modules from parked trucks have been on the rise, with thieves seeking reprogramming and reinstallation on other trucks," DTNA said. "In one theft in April, modules were reported stolen from 24 trucks waiting to be sold at an auction yard in Pennsylvania. A large number of other thefts have occurred at dealerships and customer terminals. Vehicles cannot operate without a CPC, which controls various engine and powertrain functions."
In response, DTNA instituted several anti-theft measures, including:
Recommending all dealerships, customers and repair facilities cross-reference VINs from CPCs brought in for installation against the company's database to ensure the CPC hasn't been stolen or illicitly sold. 
Providing tracking capability through DTNA Service Systems to detect any stolen CPC attempting to be installed on a different VIN.
Asking any dealership or repair facility with a CPC confirmed stolen to report it to both their local police agency and DTNA.
Recommending all fleets and customers password-protect their CPCs.
Sysco launches 10th driver training facility
Sysco Corporation announced the recent launch of its 10th professional truck driver training facility since March 2022. The global foodservice distribution company now operates CDL training facilities at Sysco sites throughout the United States.
"We're proud to be the first foodservice distributor to offer in-house training to existing employees to help them advance their career at Sysco by becoming CDL certified drivers," said Marie Robinson, Sysco's Chief Supply Chain Officer. "This industry-leading program will help increase the number of qualified drivers at Sysco and increase the career earnings potential of those trained. We are thrilled with the impact of the program and the benefits it's providing to our company, to our associates, and to our customers."
The program is taught by professional trainers employed by Sysco, and the company covers all costs of training, licensing and certification.
Addressing the driver shortage is at the forefront of Sysco's CDL Training Program. "This program strengthens our commitment to train the next generation of safe, professional drivers at Sysco," said Robinson.
During the three-week training program, each driver candidate will learn, practice, and master all necessary fundamentals needed to attempt a state CDL exam, the company said, as well as training on the "Sysco Way" of operating safely and providing excellent customer service. After graduating and obtaining a CDL, each qualified driver will be offered a position as a Delivery Partner behind the wheel at Sysco.
Since launching its in-house Operations Academy in March 2022, Sysco has also trained nearly 5,000 colleagues in new, standardized programs for its newly hired warehouse selectors and licensed drivers and existing supervisors.