Autonomous trucking tech startup Embark Trucks has handed over the first Embark-powered truck to Knight-Swift Transportation (CCJ Top 250, No. 5) as part of the two companies' Truck Transfer Program (TTP) – an initiative announced in February intended to give Knight-Swift and its drivers direct access to Embark's technology.
TTP marks the first public initiative where a carrier will directly own and operate a truck with select features of Embark's automated driving software, allowing Embark to gain valuable insight from having its system components operating in a carrier customer's duty cycle. Prior to the handoff to Knight-Swift, Embark and other autonomous developers have operated a testing model in which they own, maintain and dispatch autonomous trucks, placing their own drivers behind the wheel during hauls for shipper and carrier partners. 
Knight Swift CEO Dave Jackson said he was excited to take delivery of the autonomous-capable tractor, "so our drivers and customers can provide direct feedback on the technology as we use it in day-to-day operations to enable new safety and efficiency in trucking."
[Related: Embark completes autonomous traffic stop with Texas law enforcement]
Knight-Swift will place its drivers behind the wheel of an Embark-powered truck, allowing Knight-Swift to collect data regarding system safety and operational performance. The first Embark-powered truck will begin integrating into Knight-Swift's daily operations to move loads for large shippers on the Los Angeles to Phoenix lane.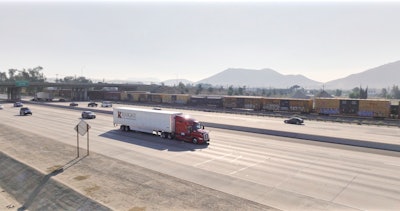 To meet the uptime requirements of a commercial fleet, Embark has focused on hardening its Embark Universal Interface and Embark Driver software. This system hardening includes improvements in calibration and maintainability of the system, enabling quick troubleshooting so that trucks can get back on the road. 
Embark and Knight-Swift have been jointly working on several operational initiatives to prepare for the handoff of Embark-powered trucks into Knight-Swift's daily operations. These initiatives include developing maintenance procedures for AV systems, pre- & post-trip inspections, training and certifying Knight-Swift drivers, and escalation policies for maintenance issues. Embark is also training Knight-Swift technicians on how to service and interact with the trucks 
While on the road, Embark-powered trucks will be monitored and supported by Embark Guardian, a combination of cloud-based fleet management software and personnel, which together will monitor the health of the Embark system while enhancing safety on the road.
This outside perspective and collaboration with Knight-Swift drivers brings critical insights to Embark's system as the company continues to execute on its commercialization effort and go-to-market strategy.
"Handing over the first Embark-powered truck to the Knight-Swift team tops off a year in which Embark has made critical strides to close the gap between testing our autonomous technology and scaling it across customer fleets," said Embark CEO Alex Rodrigues. "The Truck Transfer Program will be a model for the industry as we move from the R&D and pilot phase toward commercialization."