Trucking news and briefs for Tuesday, Dec. 20, 2022:
Trucking conditions fall to lowest mark since April 2020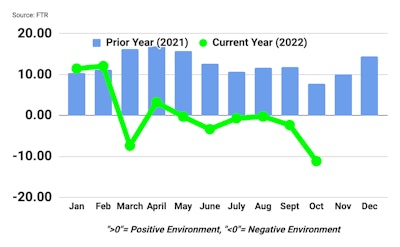 Sharp increases in fuel and financing costs, coupled with an unfavorable trend in freight rates, resulted in a major deterioration of financial conditions for trucking companies during October, according to FTR.
FTR's Trucking Conditions Index (TCI) fell to a -11.16 reading from the -2.35 reported in September. The October TCI was the weakest since the all-time low reading of -28.66 in April 2020.
"We do not see a month on the horizon as difficult as October was for trucking companies, but nor do we expect much for carriers to get excited about," said Avery Vise, FTR's vice president of trucking. "The rate environment looks to keep market conditions at least mildly negative into 2024."
Vise noted that falling diesel prices in November and December "are bolstering financial conditions in the near term, and the hit from financing costs likely will begin moderating by mid-2023."
Smaller carriers have been hit hardest, Vise said, and improvements in fuel and financing will help smaller carriers more than larger carriers.
The TCI tracks the changes representing five major conditions in the U.S. truck market. These conditions are: freight volumes, freight rates, fleet capacity, fuel prices, and financing costs. The individual metrics are combined into a single index indicating the industry's overall health. A positive score represents good, optimistic conditions. Conversely, a negative score represents bad, pessimistic conditions. Readings near zero are consistent with a neutral operating environment, and double-digit readings in either direction suggest significant operating changes are likely.
Hours regs waived for Wyoming propane haulers
Wyoming Gov. Mark Gordon last week signed an executive order that waives the maximum drive time limits for truck drivers hauling propane into and within Wyoming.
The declaration, effective Dec. 15 through Jan. 14, exempts propane haulers from Part 395.3 of the Federal Motor Carrier Safety Regulations.
Gordon said Wyoming is facing low supplies of propane to heat homes and businesses, and propane production and availability at refineries is reduced.
Due to current conditions, Gordon noted that drivers are having to drive farther and wait longer at terminals to secure propane for deliveries.
Volvo recalling trucks for air tank detachment issue
Volvo Trucks North America is recalling approximately 412 model year 2022-2023 Volvo VNL tractors for an issue that could cause the air tank to detach, according to National Highway Traffic Safety Administration documents.
According to Volvo, the air tank bracket fasteners were excessively tightened and may have broken, which could allow the air tank to detach, becoming a road hazard and increasing the risk of a crash.
Dealers will replace the fasteners, free of charge. Owner notification letters are expected to be mailed Dec. 21. Owners can contact Volvo Trucks' customer service at 1-800-528-6586 with recall number RVXX2205. NHTSA's recall number is 22V-896.
Daimler issues small recall of Freightliner, Western Star trucks
Daimler Trucks North America is recalling approximately 49 model year 2020-2023 Freightliner 114SD, 2023 Freightliner 122SD, 2020 Western Star 4700, 2019-2022 Western Star 4900, 2019-2023 Freightliner Business Class M2, and 2021 Freightliner Cascadia trucks equipped with tires that are not compatible with their 8.25-inch rims. 
As such, these vehicles fail to comply with the requirements of Federal Motor Vehicle Safety Standard number 120, "Wheels and Rims-Other Than Passenger Cars."
Driving with tires that are not compatible with their rims can reduce tire performance, increasing the risk of a crash, Daimler said.
Dealers will replace the tires, free of charge. Owner notification letters are expected to be mailed Feb. 12.  Owners may contact DTNA customer service at 1-800-547-0712 with recall number FL-962. NHTSA's recall number is 22V-919.