Trucking news and briefs for Wednesday, Dec. 21, 2022:
Cargo theft experts warn of holiday activity increase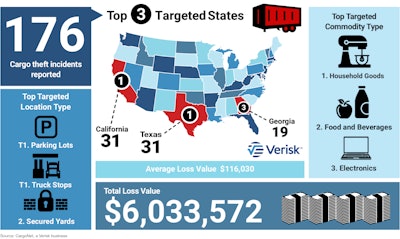 Cargo theft recording firm CargoNet has reported that supply chain theft activity is "extremely elevated," and the company believes it will continue into the holiday season as experienced cargo thieves will seek to exploit a target-rich environment of unattended trucks and closed warehouses.
Theft and fraud complaints filed with CargoNet between Aug. 1 and Dec. 14 are up 27% year-over-year. Complaints filed between Dec. 1 and Dec. 14 are up 40% year-over-year, CargoNet noted.
CargoNet examined theft data between Dec. 23 and Jan. 2 for the past five holiday seasons to help trucking companies and others in the supply chain mitigate theft this holiday. In this analysis, there were 176 incidents reported to CargoNet, and the average cargo theft was valued at $116,030. The number of incidents increased progressively each year. Last holiday season, there were 42 incidents reported between Dec. 23 and Jan. 2.
Incidents were most common in Texas and California, tied at 18% of incidents in each state. Incidents were also common in other major cargo theft hotspots like Georgia, Florida and Illinois.
Thieves most often stole unattended vehicles and shipments parked at major retail parking lots and truck stops, though CargoNet noted that incidents at fenced truck yards were a close third to the other two categories.
Electronics commodities like TVs and computers were favored by cargo thieves in this analysis, the firm said commodity preferences closely mimic consumer demand. Cost and scarcity of some food and beverage products like meat and seafood will make them attractive targets this holiday. Cargo thieves also targeted shipments of tires, motor oil and major appliances, which remain attractive targets in present day.
"This holiday season, we're extremely concerned about specific categories of freight that may be targeted through complex fraud and misdirection schemes that have exploded in popularity in California and are spreading to other states," CargoNet said.
Cargo thieves have been misrepresenting themselves as legitimate truck drivers to brokers and bidding on truckload shipments of solar panels, cryptocurrency mining equipment, motor oil, tires, appliances, and more. If their bid is accepted, the thieves will misdirect the shipment through a series of cross-dock warehouses and ultimately into their custody. Few shipments that have made it into their custody have been recovered, and it can take the victims in the supply chain weeks to realize what has happened, as thieves will often produce fictitious proof of delivery documents before disappearing. 
CargoNet said motor carriers should verify the legitimacy of any brokers that offer to hire them to pick up a shipment and deliver it to a nearby cross-dock instead of the consignee address. 
TuSimple laying off half its staff ahead of Christmas
Challenges for autonomous truck developer TuSimple continue this week with news that the California-based company will be laying off roughly half its staff ahead of Christmas.
Nearly 700 full-time employees are expected to lose their jobs this week according to the Wall Street Journal. That news, combined with another WSJ report revealing a federal probe into the company's dealings with an autonomous truck company in China, has led to a 77% nosedive in stock value from the past six months.
Much of the company's test-driving program in Tuscon, Ariz., "will be eliminated" according to WSJ. TuSimple will instead concentrate on engineering software geared at playing match-maker between self-driving trucks and shippers with the goal of cutting costs over conventional truck shipments.
Ongoing challenges continue to hamper TuSimple's place among a growing market of autonomous truck players which seek to improve delivery times and safety over trucks driven by people subjected to hours-of-service regulations.
TuSimple had appeared to be a market leader in that space and in June had announced a hiring campaign on a social media.
However, in October then-TuSimple CEO Xiaodi Hou was fired after a WSJ report alleged TuSimple was being investigated by the FBI, the Securities and Exchange Commission and the Commission on Foreign Investment about the company's ties with Hydron, an autonomous startup founded by TuSimple co-founder Mo Chen earlier this year.
Former TuSimple CEO Cheng Lu assumed leadership of TuSimple following Hou's ouster.
Another blow came earlier this month when Navistar and TuSimple announced the end of a partnership to co-develop a Level 4 autonomous truck which was slated to enter production by 2024. 
Revenue has not come easy for TuSimple. In 2022, the company brought in $4.9 million by hauling freight through autonomous pilot programs. Meanwhile, losses stacked up to $220 million. 
TuSimple did not respond to an interview request. –Tom Quimby
16-year Army veteran wins new Kenworth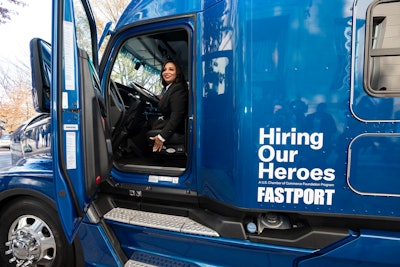 A distinguished veteran with nearly 16 years in the U.S. Army received the annual "Transition Trucking: Driving for Excellence" award during a special ceremony held Friday at the U.S. Chamber of Commerce in Washington, D.C.
For the seventh consecutive year, Kenworth teamed with Fastport and the U.S. Chamber of Commerce Foundation's "Hiring our Heroes" effort to find America's top rookie military veteran who made the successful transition from active duty to driving for a commercial fleet.
Professional truck driver Ashley Leiva of Noemi Trucking in Corpus Christi, Texas, received the keys to a Kenworth T680 Next Generation, the top award in the recognition program. The T680 Next Gen is equipped with a 76-inch sleeper and Paccar Powertrain featuring a Paccar MX-13 engine, Paccar TX-12 automated transmission and Paccar DX-40 tandem rear axles.
In 2021, Leiva retired from the U.S. Army and returned to her hometown in Corpus Christi, Texas. After graduating from the transportation training program at Del Mar College, she and brother Johnny Leiva began running the trucking business of their late mother, Noemi — and renamed it Noemi Trucking in her honor. Their company hauls crude oil for Draco Energy in South Texas.
Leiva is the first Transition Trucking winner to be nominated by a school affiliated with the National Association of Publicly Funded Truck Driving Schools. 
"This is certainly a very special moment for me," she said. "My mother inspired me to go into truck driving. She said driving a truck made her feel like she was on top of the world. It is an honor to receive the Transition Trucking award of the T680 Next Generation from among all the outstanding nominated veterans and fellow truck drivers."
Under the Transition Trucking: Driving for Excellence program, the two runners-up — Sean Adams/U.S. Navy/McElroy Truck Lines and Dave Marihugh/U.S. Navy/Roehl Transport — were each awarded with a $10,000 check. 
For the first time in the award's history, all 11 semifinalists received a trip to Washington, D.C., to be honored for their military service and participate in the awards ceremony. Under the program, driver nominations can be made by any for-hire carrier or private fleet employer, training organizations, general public and other interested parties only by completing a nomination form on the "Transition Trucking: Driving for Excellence" website.