Trucking news and briefs for Thursday, Dec. 22, 2022:
Truck tonnage fell 2.5% in November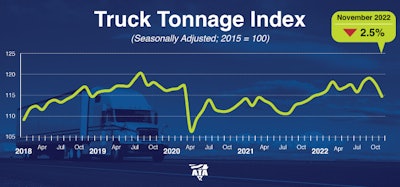 The American Trucking Associations' advanced seasonally adjusted (SA) For-Hire Truck Tonnage Index decreased 2.5% in November after slipping 1.2% in October. In November, the index equaled 114.7 (2015=100) versus 117.6 in October.
"For-hire truck tonnage saw the largest single monthly decrease in November since the start of the pandemic and a total drop of 3.7% in October and November," said ATA Chief Economist Bob Costello. "The decreases match anecdotal reports of a soft fall freight season, as well as a slowing goods-economy generally. Housing-related freight is particularly weak."
Compared with November 2021, the SA index increased 0.8%, which was the 15th straight year-over-year gain, but the smallest over that period. In October, the index was up 4% from a year earlier. Year-to-date through November, compared with the same period in 2021, tonnage was up 3.7%.
The not seasonally adjusted index, which represents the change in tonnage actually hauled by fleets before any seasonal adjustment, equaled 114.6 in November, 4.6% below the October level (120.2). In calculating the index, 100 represents 2015. ATA's For-Hire Truck Tonnage Index is dominated by contract freight as opposed to spot market freight. 
Winter storms prompt HOS relief for fuel haulers
Record winter storms and cold temperatures in many parts of the country have prompted four states out West to issue emergency declarations, waiving hours of service regulations for certain heating fuel haulers.
Governors in North Dakota, South Dakota and Utah, along with police in Colorado, are waiving certain regs to make sure their residents are able to receive heating fuel to deal with the freezing conditions.
North Dakota Gov. Doug Burgum declared an emergency, waiving Parts 390 through 399 of the Federal Motor Carrier Safety Regulations for drivers hauling heating fuel, including propane, natural gas and heating oil, to provide direct assistance to the emergency relief effort. The order is effective as of Dec. 19 for 30 days.
South Dakota Gov. Kristi Noem declared an emergency, exempting drivers transporting propane and heating fuel into or within South Dakota from Parts 390-399 of the federal regs, effective as of Dec. 16 through Jan. 15.
Additionally, Utah Gov. Spencer J. Cox issued a declaration "for the limited purpose of facilitating an exemption to the rules and regulations that limit the hours of service for drivers of commercial motor vehicles delivering propane." The waiver is effective for 30 days as of Dec. 16.
Finally, the Colorado Department of Public Safety, in conjunction with surrounding states, approved a temporary exemption from the hours-of-service regulations for haulers of consumer heating fuels, propane, and natural gas through Jan. 31.
ContainerPort Group expands sales team to accelerate growth
ContainerPort Group (CCJ Top 250, No. 81) this week announced several key appointments, marking an expansion of its commercial team that will support the company's strategic growth across every port and every rail.
To better serve its customers, CPG has aggressive strategic plans in place to accelerate its available capacity solutions by building a nationwide network, giving customers the ability to work with one carrier for all their capacity needs. CPG currently operates more than 1,500 trucks and has a widening presence due to its recently announced acquisition of Pacific Cascade Transportation in the Pacific Northwest.
The expanded commercial and sales teams will be a significant component of the business, the company said, and essential to achieving CPG's goal of being the national drayage provider of choice for today's biggest and best brands.
"We are coming off a huge year for CPG and want to continue the momentum towards having a presence at every rail and port across the country by appointing exceptional individuals to work with our customers," said Joey Palmer, CPG's President. "These new additions to our commercial teams demonstrate our deep commitment to our customers and will help us align on becoming a one-stop-shop for all of their drayage needs."
CPG's new appointments include:
Josh Cushman, Vice President of Sales – National Commercial Team
Previously serving in a commercial capacity for CPG's Truckload division from 2019 to 2020, Cushman will oversee the company's national commercial sales operations and will lead CPG's effort in strategic account development. Previously, he was Vice President of Enterprise Sales at Dart, focused on truckload brokerage.
Calvin Easley, Director of Sales – Gulf Region
For the last five years, Easley has overseen handling regional drayage sales with a focus on the Dallas and Houston regions. He previously held the position of Director of Sales at Dunavant Enterprises and has a degree in supply chain management from Texas A&M.
Marty Musialowski , Vice President of Sales – Southeast Region
With more than 30 years of experience in international logistics and a solid foundation in both sales and operations, Musialowski provides a wealth of sales knowledge from his prior employment in sales management positions with Horizon Lines, Old Dominion Freight Lines, and DCLI.
USPS adding battery-electric vehicles to delivery fleet
The United States Postal Service announced this week that it expects to acquire at least 66,000 battery-electric delivery vehicles as part of its 106,000-vehicle acquisition plan for deliveries between now and 2028.
The vehicles purchased as part of this anticipated plan will begin to replace the Postal Service's aging delivery fleet of more than 220,000 vehicles.
The Postal Service anticipates at least 60,000 Next Generation Delivery Vehicles (NGDV), of which at least 75% (45,000) will be battery-electric. As part of this plan, a total of 21,000 additional commercial off-the-shelf (COTS) vehicles are also expected to be battery-electric, depending on market availability and operational feasibility. The Postal Service also anticipates including internal combustion vehicles necessary to meet immediate vehicle replacement needs.
Unlike the vehicles they are replacing, the new vehicles will feature air conditioning and advanced safety technology, and are more suited to modern day operational requirements, USPS said. For any COTS vehicles purchased, the Postal Service will include a preference for domestic manufacturing. 
The Postal Service will continue to evaluate and procure vehicles over shorter time periods to be more responsive to its evolving operational strategy, technology improvements, and changing market conditions, including the expected increased availability of BEV options in the future.