Trucking news and briefs for Friday, Dec. 23, 2022:
FMCSA issues Regional Emergency Declaration waiving HOS regs for heating fuel haulers
The Federal Motor Carrier Safety Administration on Thursday issued a Regional Emergency Declaration in response to severe winter storms and high demand resulting in difficulty in obtaining heating fuel, including propane, natural gas and heating oil, in 45 states.
Motor carriers and drivers providing direct assistance supporting emergency relief efforts transporting the products listed above into the affected states are granted emergency relief from the maximum driving time for property-carrying vehicles in the hours of service regulations.
Affected states covered by the waiver include: Alabama, Arkansas, California, Colorado, Connecticut, Delaware, District of Columbia, Georgia, Idaho, Illinois, Indiana, Iowa, Kansas, Kentucky, Maine, Maryland, Massachusetts, Michigan, Minnesota, Mississippi, Missouri, Montana, Nebraska, New Hampshire, New Jersey, New York, Nevada, North Carolina, North Dakota, Ohio, Oklahoma, Oregon, Pennsylvania, Rhode Island, South Carolina, South Dakota, Tennessee, Texas, Utah, Vermont, Virginia, Washington, West Virginia, Wisconsin, and Wyoming.
The declaration is effective immediately and will remain in effect until the end of the emergency, or through Jan. 6, whichever is earlier. FMCSA noted that if President Biden or the governor or authorized representative of the state in which you are providing direct assistance to emergency relief efforts has also issued an emergency declaration relating to this emergency for that state, that declaration may provide additional regulatory relief.
Class 8 Tractor Dashboard continues negative trend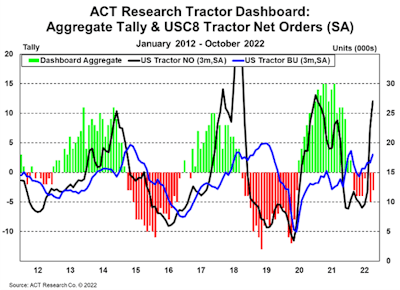 ACT Research in its recently released Transportation Digest reported that the top line on the Class 8 Tractor Dashboard slipped in October to a -3 reading, the seventh moderately downbeat reading in eight months.
"Looking at underlying row item behavior, we saw the trucking stock index pull back into negative territory and cancellations move to neutral territory," said Kenny Vieth, ACT's President and Senior Analyst. "Of the 15 variables in the Dashboard, four were at 'positive' levels, the most since July, while the number of variables in 'negative' territory declined from seven to six."
Veith added that the dashboard offers a three- to six-month look-ahead metric for the tractor market.
"We always warn it's never wise to forecast on the basis of just one indicator, or even an aggregate of indicators," he said. "That said, the 'Green Minus Red Tally' has successfully signaled inflection points in the past, so there is a track record of success."
Shippers' conditions improved in October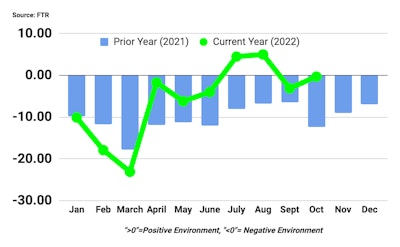 FTR's Shippers Conditions Index (SCI) improved in October to a barely negative -0.3 reading from the previous -3.1 in September.  Aside from a large increase in diesel prices during the month, shippers' market conditions were more positive month-over-month.
The greatest improvement resulted from a loosening of capacity utilization to the most favorable climate since May 2020, FTR noted, and freight volume and rates were marginally more favorable in October. The outlook is somewhat volatile but should be mostly negative.
"A trend toward weakening diesel prices will aid shipper conditions in the months ahead along with weakening truck utilization which should allow for additional capacity to open up and help stabilize shipper conditions for at least a period of time before things turn negative again in 2023," said Todd Tranausky, vice president of rail and intermodal at FTR.
Southeastern Freight Lines opens two new service centers
Southeastern Freight Lines (CCJ Top 250, No. 36) announced this week the opening of two relocated service centers in Texarkana, Arkansas, and Corpus Christi, Texas. 
The new Texarkana service center, located at 4100 East 19th Street, consists of 37 dock doors and 25 associates. Its state-of-the-art interior finishes and the addition of more than a dozen dock doors allow for future growth and will streamline transit times and cross-dock operations. 
"Our new facility will empower all associates to continue the execution of best-in-class operations, cultivate financial strength and serve our customers in a greater capacity," said Michael Groover, service center manager. "It's been a pleasure to watch our service center grow over the years, and I look forward to being a part of this next chapter."  
Previously located at 3201 East 50th Street, the Texarkana Service Center opened for business in 2007 with 18 dock doors. 
The new Corpus Christi service center, located at 5717 Bear Lane, opened Dec. 5 and consists of 50 dock doors.  
"Since we first opened our doors, the Corpus Christi associates have always prioritized completing efficient and timely deliveries," said James Carman, service center manager. "We look forward to utilizing the new and improved facility to further this long-standing mission and continue implementing Quality without Question services throughout Texas." 
Previously located at 533 Navigation Road, the Corpus Christi Service Center opened for business in 2003.