Trucking news and briefs for Tuesday, Dec. 27, 2022:
Translead recalling trailers for brake issue
Hyundai Translead is recalling certain 2020-2021 dry van and reefer trailers to fix a retaining clip in the brake pad retaining assembly that may be loose or could detach, loosening the brake pad. The company believes 39 units are affected. 
A retaining clip or bracket that detaches can damage the brake pad, reducing brake performance, damage a tire valve, causing a flat tire, or become a road hazard, increasing the risk of a crash.
Dealers will repair the spring bracket assembly free of charge. Owner notification letters were mailed on Dec. 8, 2022.
Nikola inches closer to incentives programs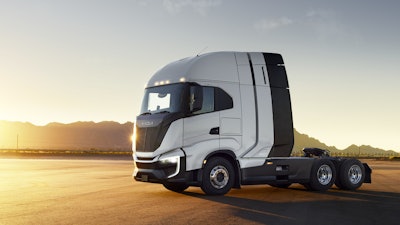 Nikola Corporation last week received a California Air Resources Board (CARB) Zero Emission Powertrain (ZEP) Executive Order – a requirement for Nikola's Tre hydrogen fuel cell electric vehicle (FCEV) to be eligible for CARB's Hybrid and Zero Emission Truck and Bus Voucher Incentive Project (HVIP) program.
Following receipt of the Executive Order, Nikola submitted an application for eligibility of the Nikola Tre FCEV as an authorized vehicle under the HVIP program for a base incentive amount valued at $240,000 per FCEV truck.
"Obtaining this CARB Executive Order is an important step for Nikola to support the launch of the Tre FCEV in California, our first priority market for this zero-emission powertrain option, with full production deliveries expected to start in the second half of 2023," says Nikola President and CEO, Michael Lohscheller.. "We expect the funding available through HVIP will drive a competitive total cost of ownership for the Tre FCEV truck, powered by the hydrogen fuel supply and infrastructure we are developing, and serviced by our local dealer network."
CARB's ZEP Executive Order is a certificate of compliance with CARB regulations for zero-emission powertrains determined to meet specific emissions standards required for sale in California, Nikola says. Obtaining this certification is also a requirement for vehicles to qualify for HVIP, a program intended to advance commercialization and to help reduce the total cost of ownership of advanced commercial vehicles in the state of California. 
Upon final HVIP approval, purchasers of the Nikola Tre FCEV in 2023 will be able to qualify for a base incentive valued at $240,000 per truck; $270,000 per truck for drayage fleets; or up to $288,000 per truck for fleets with (i) 10 trucks or less, (ii) performing drayage operations, and (iii) located within a disadvantaged community area. Eligible non-drayage fleets may secure up to 30 HVIP vouchers and drayage fleets may secure up to 50 vouchers.
In addition to the funding provided by HVIP, purchasers of Nikola's Tre battery-electric vehicle ("BEV") and FCEVs will also qualify for an additional $40,000 in clean commercial vehicle tax credits in 2023 from the federal government due to the passage of the Inflation Reduction Act, the company said.
FMCSA publishes new webpage for entry-level drivers
The Federal Motor Carrier Safety Administration added a new page to its website for those in search of driver training.
On Dec. 22 the FMCSA updated the Training Provider Registry website to create a new section for entry-level drivers, including a new page with recommended steps drivers can take when selecting a training provider from those listed on the agency's Training Provider Registry. This information is also available as a downloadable guide.
In a notice about the new webpage, FMCSA said, "Drivers are strongly encouraged to use care when selecting a training provider that will help them meet their specific ELDT requirements. Visit the Training Provider Registry to learn more about how to stay compliant while training for your CDL or CDL endorsement."
The new webpage includes:
information to help you confirm you need to take entry-level driver training
a checklist to help you locate an approved training provider
a link to minimum curriculum requirements
tips on finding possible financial assistance to pay for your training
a link to check on the information your training provider has submitted to the Training Provider Registry.