No doubt, it's important to implement sound maintenance practices to keep trucks up and running.
Creating a culture that's driven to improve the health – not only of drivers, but also the entire company and their families – is even better because a business is only as healthy as the people behind it.
That's exactly what Gulf Relay had in mind when they signed up for Espyr's Fit to Pass program.
However, as Fit to Pass co-creator and trucking health guru Bob Perry pointed out, Gulf Relay went even further by coming up with cash-based incentives and expanding the driver-focused weight loss program to include everyone at the office who'd like to be part of a team-effort approach to healthier living.
The Clinton, Mississippi-based carrier also opted to acquire software that helps to keep a closer eye on driver health.
Roughly a year after implementing its health program, Gulf Relay is seeing positive results which has Chief Operating Officer Andy Vanzant breathing a sigh of relief and feeling emboldened about the road ahead.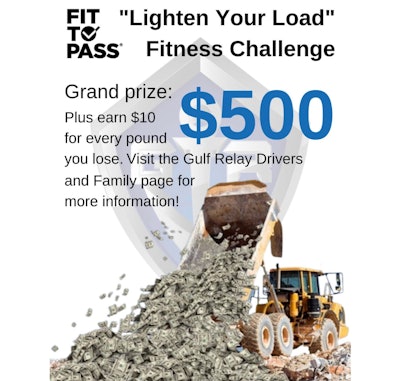 "We worry about the health of a truck. We want it to be fit and running right and getting eight miles per gallon and running for 600,000 miles and all that kind of stuff," Vanzant said, "but we're not going to worry about the guy driving it?" 
Vanzant was very familiar with Fit to Pass after seeing the program's success firsthand at another carrier he had worked for prior to joining Gulf Relay last year. He reached out to Perry when he learned that driver health at Gulf Relay was an issue that needed to be addressed.
"We had four drivers in 2021 that lost their medical card," Vanzant said. "About 65% of our drivers had a one-year or a less DOT physical medical card, not the two-year that you want and I said, 'We've got to do something.'"
Fit to Pass is a year-round health program that leans on an encouraging coaching approach to help drivers — and in Gulf Relay's case non-drivers too — to take on more healthy habits centered around diet and exercise. When it comes to recertifying for their DOT medical cards, drivers needing a little more help can turn to the program's intensive wellness track 90 days ahead of the exam. The approach has been paying off at Gulf Relay.  
"We've gone from four lost drivers in '21 to just one this year so far," Vanzant said, "and we've decreased our one-year [DOT cards] from 65% down to 58%. We still have a lot of folks at one year and six months, so it is a work in progress, but we're making progress."
That progress has gotten a big thumb's up from Perry.
"It's been my experience when a company sincerely takes interest in their employees and their families well-being, positive outcomes are produced," he said. "Gulf Relay's vision to do things differently has paid off in retaining drivers, by providing the necessary wellness tools to maintain their health."
Coaching and technology help lead the way
As part of its three-year Fit to Pass contract, Gulf Relay signed up for a health coach who helps drivers and other employees reach their fitness goals. Besides passing along advice on diet and exercise, the health coach meets regularly with program participants to see how they're keeping up with their plans. Having a coach also sharply reduces the workload of program management.
[Related: Pets help boost drivers' physical and mental health]
"It comes down between the driver and Camaryn [Donaldson], their onsite health coach," Vanzant said. "That's not our deal. It benefits us, but I'm not involved in that. Camaryn is the expert. She's the health coach, the diet coach, all that stuff. All I'm trying to do is get our driver to believe in what she's trying to do to benefit all of us."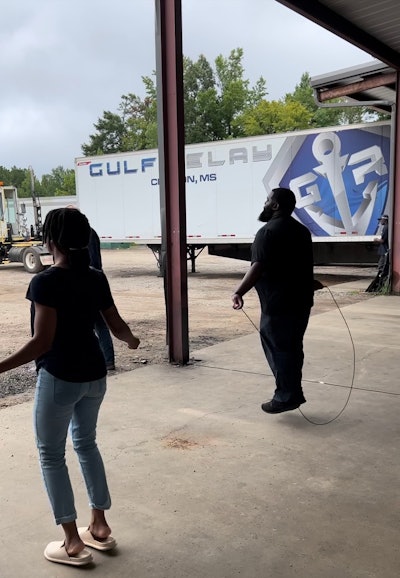 Donaldson makes presentations at driver orientations and at safety meetings to help encourage program participation. Gulf Relay also relies on social media to get the word out since, as Donaldson pointed out, a work-administered health program is still a fairly new concept.
"Usually in orientation I'll ask the guys, 'Okay, out of the many years that you have been driving, how many of the companies had wellness programs?' And very few of them will raise their hands. So that's usually kind of a shocker to me," she said.
Driver interest varies and typically there's some pushback along the way, but it doesn't always end on a bad note.
"You'd be surprised because the people that kind of brush it off are usually the ones that are pulling me to the side towards the end of the class or whenever I'm done presenting [to sign up]," she said.
Given Gulf Relay's company-wide push to improve health for everyone, office personnel have also approached Donaldson and gotten guidance and motivation for embracing a healthier lifestyle. 
"We have some office people who have also taken advantage of it and lost a good deal of weight," said Gulf Relay's marketing manager Sarah Williams.         
To help drum up more interest, Gulf Relay came up with a weight loss challenge in the summer dubbed "Lighten your Load" which offered participants $10 for every pound they shed plus $500 to the driver that lost the most weight.
"It was a good turnout. It was definitely new for a lot of people," Donaldson said. "A lot of drivers lost weight with small behavioral changes and just felt better while doing their jobs."
Those small changes can include opting for water and healthy snacks instead of soft drinks, chips and candy.
Donaldson said to avoid the potential for relapse, changes in diet should be brought on gradually. For example, for a driver accustomed to drinking five cans of soda a day, Donaldson advised that he slowly throttle back and try substituting one bottle of water for a can of soda instead and keep gradually adding more water to his diet.
'We're trying to work on just gradually setting boundaries, setting plans of what we actually want to do," she said.
Participants can also get help with their health goals with the Fit to Pass app, which allows for tracking of hydration, diet and exercise. Instructional exercise videos are posted there as well. The app can also be used to talk with licensed behavioral health therapists 24/7.
Vanzant said Gulf Relay has also acquired new software from Idelic that focuses on keeping up with driver health. Drivers voluntarily submit medical information, which is used to better address needs like getting them more physically fit ahead of medical card recertification. 
"That software allows us for the first time to keep up with things like their medical cards, doctors, all the details that we didn't really have before," Vanzant said.
Driving it home
Kris Shelton, an owner-operator with Gulf Relay, credits the company's approach to Fit to Pass for helping both him and his wife to lose weight and get more fit.
While out on the road, Shelton has learned to make fairly simple adjustments that can add up to weight loss over time. This includes parking his truck at the far end of the lot, weather permitting, so he can get "a few extra steps in."
Walking around the truck during breaks and fuel-ups also provides additional exercise. A resistance band makes for quick and easy workouts to help tone-up biceps, triceps and chest muscles. Doing squats outside the truck has also helped. In the sleeper, Shelton said there's room for leg lifts and sit ups.
"The biggest key is getting active, not just sitting in the truck," Shelton said.
Another big help is having Donaldson motivate him and Angie along the way. They both shed some pounds during the weight loss challenge and they made a squat exercise video to help inspire others to get in shape. 
Donaldson will reach out to a drivers' spouse or partner to enlist their help when it comes to motivating drivers with diet and exercise choices. "Camaryn does a really good job," Shelton said. "Every time you see her in the yard, she's going to ask you if you're getting your water or whatever the deal might be with you, she's going to make sure she asks you about it."
Shelton said another weight loss challenge will be rolling out with the new year which with all the holiday feasting will make for another good opportunity to take on some healthier habits.
"If the drivers would just give Fit to Pass a chance and listen to their coaches, it's a great thing honestly," he said.