CCJ Innovators profiles carriers and fleets that have found innovative ways to overcome trucking's challenges. If you know a carrier that has displayed innovation, contact CCJ Chief Editor Jason Cannon at jasoncannon@randallreilly.com or 800-633-5953.
An ongoing challenge Ryder (CCJ Top 250, No. 14) and thousands of fleets across the country battle is idle equipment.
Ryder let that common problem serve as unifying call to action when they launched their vehicle sharing platform COOP in 2018.
Now a dedicated website and app has become so popular that COOP has seen 250% year-over-year growth since rolling out four years ago.
Their growing online presence, which Ryder likens to Airbnb, is not only helping Ryder itself to rent more of its equipment it's also helping more than 10,000 fleets across the country generate revenue from trucks, trailers and vans that otherwise would be sitting around unused.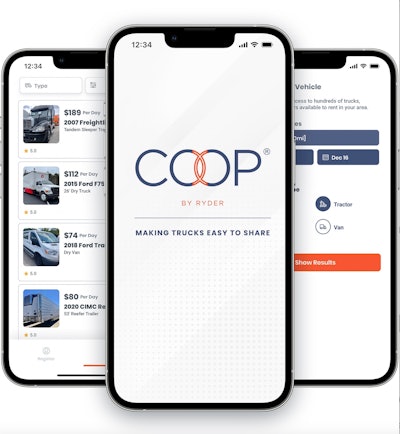 "I'm getting revenue on assets that basically sit for six months," said Cliff Riegler, fleet manager at Home City Ice, based in Cincinnati, Ohio. "It's a big deal. We're not talking chump change. We're getting a negotiated number that Ryder gives and I think they're very fair on the daily rates we get. I'm not going to complain at all."
As Riegler puts it, the ice business "is extremely seasonal." In addition to renting out 16- and 18-foot reefer trucks during the fall and winter off-season, he turned to COOP this past summer during peak ice demand to rent "somewhere around 50 units over the course of the summer from various locations."
COOP customer Phil Sneed, president of Sneed Leasing in Austin, Texas, said COOP has helped put more of his 53-foot dry van trailers to work.
"Our asset utilization rate increased from 76% to 98% thanks to the COOP mobile app," Sneed said.
Backhaul Direct based in Indianapolis earned more than $300,000 renting out trailers during its first year with COOP.
"In our experience, the platform's ease and flexibility has enabled us to reduce vehicle downtime and, in turn, earn a profit to offset costs," said Backhaul Director CEO Greg Harris. "Since joining COOP, we've been able to keep our fleet moving and create long-lasting relationships with businesses and renters in need of vehicles."
In something akin to the old adage of "a rising tide lifts all boats," the growing popularity of COOP's web and app presence has benefitted Ryder too.
"COOP works hand-in-hand with Ryder to help maximize vehicle utilization and facilitate asset repositioning, which helps generate additional revenue across multiple Ryder divisions," said Romain Rousseau, vice-president of COOP.
COOP's success led Ryder to announce last week a drop-and-hook trailer service to complement its growing freight brokerage business. Shippers and carriers now have access to more than 6,000 dry and refrigerated trailers available through COOP.
Strength in numbers
For fleets that lack the resources to shift gears and rent idle equipment, turning to a major leasing company like Ryder makes for an easy transition.
COOP eliminates many of the major friction points associated with a peer-to-peer sharing network like insurance, DOT compliance and payments. COOP also offers Ryder's 24/7 Roadside Assistance.
"They're the intermediary in the process that gives me a lot of comfort in renting the trucks," Riegler said.
With over 1,100 trucks in his fleet, for Riegler it's just a matter of submitting truck specs and photos to COOP, which in turn posts the truck for rent on its website and app. Riegler gets a notification when someone signs up to rent. Renters that show up to a Home City Ice location to rent a truck are vetted by Ryder, which gives Riegler additional peace of mind.
Riegler has rented out his trucks in the past, but Ryder's depth of experience and large line-up of resources that stem from managing nearly 239,000 commercial vehicles made switching to COOP a no-brainer, he said. 
"I could rent these trucks on my own to various places and I have done that in the past, but it was the maintenance piece that made it difficult for us," Riegler said.
Each Home City Ice location typically has one mechanic, Riegler said, who might be off for the weekends. That's where Ryder's 24/7 Roadside Assistance, something that Riegler says is COOP's "biggest advantage," comes into play.
"Ryder System has all that infrastructure in place, so if truck goes down, they call Ryder. Ryder handles the issue. They'll make a call to us. Do we approve it? Yes or no? I think just that piece alone has made this thing well worth the effort," Riegler said.
Bringing it all together
When it comes to attracting large volumes of equipment, COOP is in the driver's seat according to Rousseau.
"We're able to find the capacity regardless of the market conditions so that's a huge advantage," he said.
Technology created in-house with development partners is driven by "proprietary software and mobile application with the input of our many customers using the solution every day," Rousseau said.
If fleets don't come to COOP, COOP can seek them out and determine if they're a good fit for the platform.
"COOP relies on advanced data analytics to determine the ideal customer profile and identify idle fleets based on industry seasonality," Rousseau said. "COOP also leverages its analytics platform to recommend daily rates and match vehicle owners with the best renting partners."
Renters are charged a daily rental rate plus a mileage fee. COOP keeps 20% of the rental rate while the vehicle owner keeps 80%.
"Mileage is a pass through to the owner to cover running cost," Rousseau said.
Tire damage is usually covered by the renter while vehicle damage is covered by a physical damage policy renters are required to carry. Renters can use their own insurance or purchase insurance through COOP for a daily fee. Discounts are available for longterm rentals. COOP concentrates on renting Class 3 – 8 trucks and vans.
COOP reviews a vehicle's inspection report to ensure it's road-ready prior to making it available for rent. Companies interested in renting are also vetted.
"COOP checks the DOT record of every company before they are able to join platform," Rousseau said. "Companies with violations and/or low DOT scores do not qualify to rent." 
Differences in vehicle inventories help to keep COOP from competing with Ryder.
"COOP actually complements Ryder's rental product," Rousseau said. "COOP offers equipment outside of our traditional rental footprint and also offers inventory that might not be available through our traditional rental locations such as trailers, chassis and specialized equipment. COOP and Ryder Rental operate hand-in-hand to offer more options and value to our customers."
Rousseau added that COOP is garnering longer rental commitments over Ryder's traditional rental footprint.
"We are seeing longer term rentals on the COOP platform, in part due to the fact that we drive a large volume of trailer rentals, which have a tendency to stay out longer," he said. 
Earlier this year, COOP rolled out to all 50 states in mostly high density transportation markets. As the platform continues to grow, Rousseau said their longterm goal is to continue to create a community of users who work in close proximity.
"We provide a nice piece of technology for people to just go get the equipment nearby without having to drive to a rental branch," Rousseau said. "Our goal at scale is to have enough vehicles listed on the platform so that there's always a vehicle nearby."
The CCJ Innovators program is brought to you by Comdata, Freightliner Trucks and Valvoline.