Amazon's electric delivery vans from Rivian continue to make their way to cities across the U.S. with drivers perhaps serving as some of their best PR agents.
The bluish gray vans – distinguished by their tall height, round headlights and Amazon badging on the grille – began rolling out to the retail giant's own drivers and those working for independently contracted Amazon Delivery Service Partners this past summer.
Since then, more vans have continued to hit the streets, bringing the holiday shopping season total to more than 1,000 Amazon electric delivery vans (or EDVs as Amazon calls them), which have delivered packages in more than 100 cities across the country. Amazon is aiming to have 100,000 EDVs from Rivian deployed by 2030. 
While sustainability targets and ESG scores have tended to dominate story lines concerning EV acquisition at the fleet level, it's Amazon's drivers in this case which are getting some attention given their ongoing praise for these high-tech, zero-emission workhorses.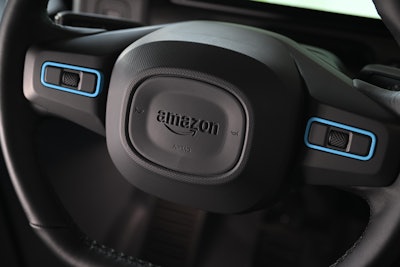 Julieta Dennis, an Amazon Delivery Service Partner and owner of Kangaroo Logistics in Palatine, Illinois, said the vans have been a hit with her drivers.
"We started making deliveries with the electric vehicles from Rivan in August, and my team has had nothing but good things to say about the vans," Dennis said. "The safety features, like the automatic emergency braking and 360-degree cameras, are game changers, and the drivers also love the overall comfort of the vehicle."
Amazon driver Darin Watkins called his electric van a "showstopper" that he enjoys driving through neighborhoods.
"I love it. To me, it's exciting," he said. "I've never driven an electric vehicle, so seeing the electric van, it's so different."
It's different on the inside too where Watkins enjoys the cabin door that automatically opens whenever he makes a delivery stop. He likes the van's center console display, which gives him quick access to features.
"It's like a tablet. It has literally everything from where you program the music from where you can adjust the mirrors. It just has everything you need right here in this system. Everything," he said.
Amazon Delivery Service Partner Juan DeLeon is not only impressed with the additional room the van provides but is also excited about additional safety features.
"Safety is our number one priority when it comes to delivering packages," DeLeon said. "These vehicles have sensors all over, so anytime they're getting close to a certain object the vehicle will stop. That alone is priceless."
In addition to the van's quiet performance, drivers have been impressed with the van's "smooth driving and great suspension and acceleration," said Amazon spokesperson Abigail Olshavsky. "They've also told us they enjoy our unique 'auto-hold' feature, where when our EDVs come to a stop they automatically go in a static position without changing the gear."
Amazon's EDV has a 150-mile range which Olshavsky said "is enough to cover any delivery route" and does not require drivers to stop and charge during their shift.
Amazon has both DC fast-chargers and slower AC chargers. Drivers typically plug the vans into an AC charger at the end of their shift for an overnight charge.
Collaboration wins the day
Mustafa Samiwala, Amazon's head of vehicle products and programs, pointed out that it's taken a lot of work, including ongoing collaboration with van manufacturer Rivian, to arrive at a high level of driver satisfaction.
"We started with the driver experience in mind," Samiwala said. "We knew what a day for one of our drivers looked like. We know how it starts; we know how they load; we know how they deliver packages; we know how they come back to station; and so we have a very accurate view of exactly who the customer for this van is."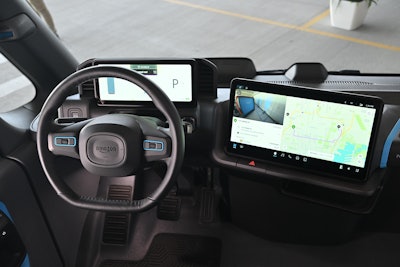 The journey from concept to current model took roughly three years.
"We tested it and through prototyping and continued feedback from drivers [and] engineers to make sure the vehicle's the right quality and ready to come out on the road," said Mark Cuyler, Amazon's director of vehicle engineering and design.
The lengthy collaboration between Amazon and Rivian focused so much on Amazon drivers that the two companies refer to the jointly designed vehicles as custom electric delivery vans.
"The Amazon custom electric delivery vans were built with Amazon drivers in mind," said Rivian spokesperson Kenya Friend-Daniel. "From the beginning of the project, Rivian and Amazon have been focused on providing drivers the safest and most comfortable vehicle possible, simplifying their daily activities and ensuring the EDV is approachable ad easy to drive."
The 360-degree cameras and parking sensors have been two of the most popular safety features for drivers.
"It's been exciting to hear that drivers have appreciated and enjoyed safety features like the 360-degree surround view cameras, parking sensors and the integrated software solutions with Amazon's last mile delivery app, and driver comforts like the microclimate HVAC system that's connected to the driver's seat," Friend-Daniel said. "It is Rivian's goal to encourage EV adoption and we hope to do that by showing other companies what is possible with the thoughtful implementation of technology and a focus on the needs of the driver and the fleet operator."
EDV expansion at Amazon not only hinges on vehicle production but also a charging infrastructure build-out which will require more collaborative efforts.
"Charging infrastructure may be one of the longest lead time components of our decarbonization plan for last mile delivery vans," Olshavsky said. "We've looked at the partnerships we might adopt to enable charging for our fleet with vehicle manufacturers, with charging network operators and with utilities and energy companies."
Collaborations do, however, have their limits – at least for the time being. When asked if Rivian plans on working with other fleets to deploy its EDVs, Friend-Daniel said, "Ultimately, we want to do our part to help more companies electrify their fleets, but right now, our focus is on getting more Amazon custom electric delivery vans on the road and in neighborhoods across the country."