Trucking news and briefs for Wednesday, Jan. 4, 2023:
Schneider transitions western rail ops to Union Pacific
Schneider (CCJ Top 250, No. 9) announced it has completed the transition of its western rail operations to Union Pacific (UP), making Schneider the largest company driver dray fleet on the rail network and the first fully asset-based carrier with company drivers, more than 28,000 company-owned containers, and company-owned chassis to operate on the UP.
Schneider said it worked closely with the railroad over the past year to ensure a seamless transition for its customers, as well as to align operations, technology and commercial teams. This move is also a pivotal step in the company's plans to double the size of its intermodal business by 2030 and continue to reduce its carbon footprint. 
"We believe the move in the West means we can offer our customers a distinct differentiator in the market," said Schneider Executive Vice President and Group President of Transportation and Logistics Jim Filter. "The combination of more coast-to-coast connections and being the first fully asset-based carrier with company drivers, company-owned containers, and company-owned chassis to operate on the railroad will result in more consistent service and less time in transit. We see huge benefits with Union Pacific to successfully deliver a positive service experience for our customers and drivers." 
Torc partners with autonomous verification and validation firm
Daimler Truck subsidiary Torc Robotics announced Tuesday a multi-year strategic collaboration with Foretellix, a provider of safety-driven verification and validation (V&V) solutions for automated driving systems (ADS).
The collaboration delivers to Torc a virtual verification and validation solution, capable of testing the millions of driving scenarios required to ensure the safe deployment of Level 4 autonomous trucks. Torc Robotics is leading Daimler Truck's effort to develop and commercialize Level 4 autonomous trucks.
At the center of the collaboration is Foretellix's Safety Driven V&V platform that allows development, V&V, and safety teams to specify scenarios easily, generate massive scale testing, and analyze the results.
"Our technology is designed with safety as the first priority," said Axel Gern, Torc SVP of engineering and managing director of Torc EU. "Our collaboration with Foretellix is in line with Torc's safety mission. It provides Torc with V&V tools to add to our current toolset, based on industry standards, to conduct the massive scale testing and validation we need to ensure the safety of our systems".
Shipping firm Rollo launching EV fleet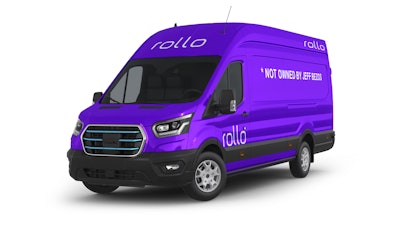 Shipping services provider Rollo announced Monday the launch of its Las Vegas EV Fleet, a carbon-friendly offering for last-mile logistics. Rollo offers an ink-free wireless label printer, a shipping app and now a delivery service.
Rollo will be offering free pick up for legacy carriers, GPS tracking, and same-day delivery on packages within Las Vegas-Rollo's first test market, with plans for expansion into other metropolitan cities.
With e-commerce growing by 23% per year, the increase in last-mile delivery vehicles is causing an increase in greenhouse gas emissions, the company said. Nearly 300 billion parcels are expected to be delivered annually by 2026, making it more urgent than ever to make last-mile delivery more economically and environmentally sustainable.
"We are bringing legacy shipping into the 21st century, which of course includes using electric vehicles to prove that shipping can and should be painless for everyone, including the environment," said Kevin Faro, founder and CEO of Rollo. "Industry predictions are forecasting a 36% rise in the number of delivery vehicles in the world's top 100 cities by 2030, leading to an emissions increase of over 30%. We are doing this to minimize our carbon footprint as a powerful e-commerce ally for businesses looking to ship fast and easily."
Anyone with the Rollo app can take advantage of these services, with no need to have a Rollo printer or even shipping materials. Rollo will be using an entirely electric vehicle fleet as part of its mission to make that last mile a smooth ride without the headaches of driving packages to a shipping office and waiting in long lines.
PGT Trucking announces new leadership appointments
PGT Trucking Inc. (CCJ Top 250, No. 93) announced recently two new appointments to its Executive Leadership Team, naming Luis Guzman as Chief Financial Officer and Andrew Erin as Vice President, Technology Advancement.
"Every year, PGT Leadership evaluates our annual accomplishments and goals for the new term," said Gregg Troian, PGT Trucking President. "I am confident that in these new roles, Luis Guzman and Andrew Erin will help lead PGT to success, supporting our company's commitment to strategic growth and innovation in 2023."
Guzman joined PGT in 2004, serving most recently as vice president of finance. With more than 18 years of experience in the company's financial departments, Guzman is well prepared for his new position, the company said. As CFO, Guzman will oversee PGT's financial management, maximize the company's earnings and identify strategic growth opportunities.
Erin began working at PGT in 2013 and has held several positions in the Operations, Safety and Risk departments. Erin is the Chairman of the company's Innovation Committee, and in his new role, he will be tasked with promoting PGT's Future of Flatbed initiatives by adding quality talent to the Applied Technology department, overseeing the implementation of new software in company systems and leading PGT's innovative approach to transportation solutions.