Trucking news and briefs for Thursday, Jan. 5, 2023:
C.H. Robinson CEO steps down
C.H. Robinson announced Tuesday that Bob Biesterfeld has stepped down as President and Chief Executive Officer and as a member of the Board, effective Dec. 31, 2022. Scott Anderson, Chair of the Board of Directors has been appointed Interim CEO, effective Jan. 1.
The company's Board of Directors has commenced a search for a new permanent CEO and has retained Russell Reynolds, a leading national executive search firm, to assist in the process of identifying internal and external candidates.
With Anderson's appointment as interim CEO, Jodee Kozlak will become independent Chair of the C.H. Robinson Board. C.H. Robinson has also made changes to the membership of its Audit Committee and Governance Committee so that these committees remain composed solely of independent directors, and appointed Kermit Crawford the Chair of the Governance Committee.
"On behalf of the Board of Directors, I thank Bob for his many important contributions over the past three years as CEO and his 24 years with C.H. Robinson," Anderson said. "Since joining Robinson in 1999, Bob has played an important role in positioning C.H. Robinson for long-term success, most recently leading the company through a challenging period, which included COVID-19 and dealing with supply chain disruptions. We wish him all the best."
Biesterfeld said he is "proud of all that we have achieved together, and it has been a pleasure working with so many talented members of the team throughout the organization during my tenure as CEO. I am confident that C.H. Robinson's industry leading people and culture will continue to ensure that the company is well-positioned for the future." 
Tradition Transportation and its subsidiaries acquired by shell company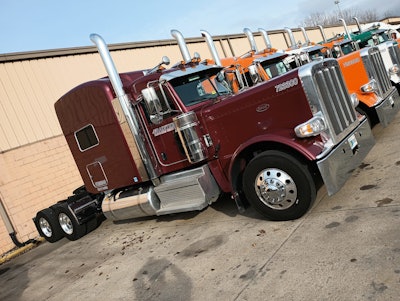 Angola, Indiana-based transportation and logistics company Tradition Transportation Group has been acquired by Florida shell company Aqua Power Systems for $28.5 million. 
Tradition Transportation Group provides dry van, refrigerated and specialized flatbed freight transportation, brokerage, truck leasing and financing, warehousing and fulfillment services throughout the U.S. It employs about 60 full time drivers and 132 owner operators. It also manufactures and sells bolts and fasteners, and creates custom plates, cages and embeds through subsidiary Anthem Anchor Bolts and Fasteners, which is included in the deal. 
"Months of planning, discussing, and strategizing have come to fruition and I'm more excited for Tradition's future than ever before," Tradition Transport President and CEO Tim Evans said of formally closing a purchase agreement that had been in the works since October. "First of all, let me be as clear as possible to all the Tradition family of clients, drivers, and other employees that this acquisition does not change our business trajectory other than amplifying and accelerating the path we've already been on. We believe that this acquisition positions Tradition for next-level growth."
Aqua Power CEO Stephen Carnes said updates on each of Tradition's subsidiaries will be forthcoming as well as new business, adding "there's literally so much that it's a struggle to know where to begin. It is my hope that shareholders and investors can look at how this deal has evolved thus far and understand that I'm working to add maximum value and benefit for our valued stakeholders."
Westmor Industries acquires fleet repair company
Westmor Industries, one of North America's most comprehensive energy storage, transportation, and dispensing equipment manufacturers and suppliers, announced it is acquiring fuel and propane fleet repair company Metzler Bros. Tank, Truck, and Trailer. 
The new location has been rebranded as Westmor Industries and expands Westmor's ability to sell and service refined fuel and propane transportation products in the mid-Eastern U.S.
Westmor's Eastern customers will now have access to an extended network that includes a location in Duncansville, Pennsylvania. Metzler Bros. Tank, Truck, and Trailer's customers will get the same people and service they've always worked with, plus access to numerous other locations, products and services, Westmor said.
"Metzler Bros. Tank, Truck, and Trailer was a great match for Westmor with its culture and desire to build strong customer relationships. They've always provided exceptional quality products and services," said Mike Hennen, general manager of Westmor's Truck and Trailer Division. "We're excited to welcome our new team members, customers, products and services while growing Westmor's footprint."
Fuel distributor Offen acquires Chicago-based Gas Depot's wholesale division
Offen Petroleum announced Wednesday that it has completed the acquisition of the wholesale division of Gas Depot, Inc. and Gas Depot Oil Company, both headquartered in Chicago.
Offen is an independent distributor of motor fuels, propane, lubricants, and offers petroleum logistics services throughout the United States. The acquisition is Offen's first into Chicagoland and the Great Lakes region.
Gas Depot was founded by George Nediyakalayil in 1999 and is a full-service wholesale distributor of motor fuels throughout the Midwest, including Illinois, Wisconsin, Indiana and Missouri. Gas Depot sells motor fuels under the Shell, Marathon, Citgo, BP, Exxon/Mobil, Gulf, Clark, and its proprietary Gas Depot brands, as well as being a supplier of unbranded motor fuels.
Gas Depot has developed a reputation of operational excellence and has been a trusted supplier in Chicagoland and surrounding Midwest markets.  Further, Gas Depot operates its own chain of gas stations and after the transaction, Gas Depot will continue to operate these stores.
"I am very pleased that we have been able to impact the fuel industry over the past 23 years, and now our team has chosen to redirect our efforts towards growing our other companies and businesses," Nediyakalayil said. "Gas Depot has grown not just as a business, but an extended family that has created lifelong opportunities and relationships. While it is not easy to transition off this business, I know that Offen will be an excellent operator to continue the growth that we started."
The acquisition will add more than 150 new retail gas station/convenience store customers, along with a portfolio of municipal customers, to Offen's portfolio. The addition of these customers will provide Offen a new footprint in Chicagoland and surrounding markets. Further, Offen is establishing an operations center in Chicago and will be hiring the talented operations personnel of Gas Depot.