Trucking news and briefs for Friday, Jan. 6, 2023:
PGT adding Nikola BEV to flatbed fleet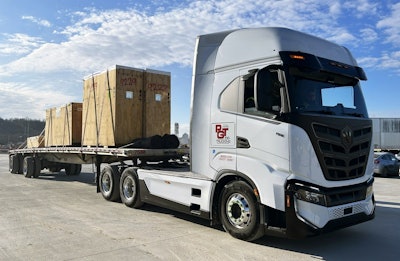 PGT Trucking (CCJ Top 250, No. 93) is purchasing its first Nikola Tre battery-electric vehicle (BEV) truck, becoming the first flatbed trucking company to actively grow its fleet with zero-emissions equipment, the company said.
PGT will immediately utilize the Nikola Tre BEV on a select customer account, primarily operating on local, dedicated routes.
"Our customers have expressed a need for sustainable shipping solutions, and we are working to align ourselves with their green energy commitments," said Gregg Troian, PGT Trucking President. "With the purchase of the Nikola Tre BEV, PGT is prepared to meet these demands."
PGT's new Research and Development Department, led by Laurence Cox, Vice President, Sustainability, has been tasked with analyzing and applying the company's green fleet solutions, identifying additional short-haul usages for the battery-electric truck and exploring new initiatives to support its operation across multiple platforms.
Previously, PGT signed a letter of intent to lease 100 Nikola Tre fuel cell electric vehicle (FCEV) trucks, and PGT's R&D Department will help prepare for the full integration of those units into its fleet, which are anticipated to arrive later this year. With the addition of the new zero-emissions equipment, PGT is on track to reach its sustainability goal, reducing carbon emissions from its company-owned fleet by 35% by the year 2025.
DOT announces annual fines increase for regs violations
The Department of Transportation will publish Friday a final rule updating the civil penalty amounts that may be imposed for violations of certain DOT regulations, including Federal Motor Carrier Safety Administration regulations focused on trucking-company audits.
DOT is required by Federal Civil Penalties Inflation Adjustment Act Improvements Act of 2015 to adjust fine amounts each year based on inflation.
A final rule that will publish in the Federal Register Friday makes the new fine amounts effective immediately. The 2015 Act required FMCSA and other DOT agencies to issue an initial "catch-up" adjustment, followed by annual adjustments for inflation.
The DOT, to find the 2023 adjustment amount, had to multiply the previous penalty amount by the percentage change between the October 2022 Consumer Price Index for All Urban Consumers (CPI-U) and the October 2021 CPI-U, which for that period was 1.07745. Given this multiplier, all of the fine amounts increased.
The DOT noted that the penalty adjustments made by the rule will apply only to violations that take place after the rule takes effect, adding that the rule doesn't change previously assessed or enforced penalties that DOT is actively collecting or has collected.
The updated fines for FMCSA regulations violations can be seen here. 
Roadrunner announces latest transit time improvements
Roadrunner (CCJ Top 250, No. 100) on Thursday implemented its updated proprietary Load Plan 2.0, further speeding up its network across 130 major lanes, representing its fourth round of transit time improvements over the past 18 months.
Leveraging a machine-learning (ML) algorithm to optimize its less-than-truckload (LTL) network operations, Roadrunner now offers more direct long-haul metro-to-metro shipping than any other LTL carrier, the company said.
Highlights of the network improvements include:
130 terminal-to-terminal lanes with faster transit times
12.5 million improved zip-to-zip combinations
Faster transit times from 30 origins and to 27 destination service centers
The network enhancement is enabled by Roadrunner's proprietary ML algorithm and the new Load Plan 2.0 that leverage Driver Partner Teams, multiple daily departures, and customized dock automation.
In addition to transit time reductions, Roadrunner's new driver app, Haul Now, was released in December and provides real-time data about shipment location. The new app launch follows technology improvements in dock automation, internal data analysis, and customer reporting.
Women in Trucking launches 2023 gender diversity survey
The Women in Trucking Association (WIT) is encouraging trucking companies and others in transportation to complete a survey that collects data on gender diversity in the industry. The data will be used to develop this year's version of the WIT Index, which serves as an industry barometer to regularly benchmark and measure the percentage of women who are professional drivers, in corporate positions, and serve in leadership roles.
WIT is requesting for-hire trucking companies, private fleets, transportation intermediaries, railroads, ocean carriers, equipment manufacturers and technology companies to report the percentage of women in various roles of their workforce include. Data reported will be kept strictly confidential, and data will be reported only as aggregate totals of respondents. Individuals completing the survey must be an authorized respondent from the company.
Interested participants can report their data via the live survey through April 21.
Participating companies in the survey will receive an executive summary of the 2023 WIT Index at no cost, which will enable them to benchmark their gender diversity practices against other companies in transportation.
Last year, the 2022 WIT Index found that the percentage of professional drivers who are female increased to 13.7%, an uptick of more than 3% since 2019. Additionally, the report found that women make up 33.8% of C-suite executives in transportation companies, 40.5% of safety professionals, and 74.9% of human resources and talent management roles.