A major Michigan grocery chain has added two battery-electric tractors to its fleet in a test of the vehicles in cold weather conditions.
Grand Rapids-based Meijer is testing two Freightliner eCascadias as part of a grant from the U.S. Department of Energy.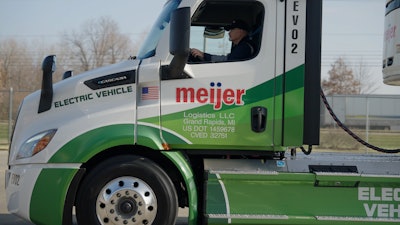 The two semis will operate out of the retailer's Lansing Distribution Center, which is now equipped with specific charging infrastructure. They will make multiple deliveries daily to Meijer supercenters within a 200-mile trip range of the distribution center.
Meijer received the battery-electric trucks early last month and celebrated their inaugural delivery with a more than 44,000-pound food donation to the Gleaners Community Food Bank in Detroit alongside Gov. Gretchen Whitmer, and representatives from Meijer and Daimler Truck North America.  
Meijer became a test fleet for Freightliner in 2009 and was selected in 2019 to test the manufacturer's battery-electric trucks. After a successful conclusion of testing and integration of customer feedback in the design and development process, Freightliner is now rolling out the battery-electric truck to customers, including Meijer, which received the first delivery.
The retailer's trucks were partially funded by a grant to Daimler Truck North America from the U.S. Department of Energy's Vehicle Technologies Office geared toward the demonstration of battery-electric commercial trucks under diverse climate conditions. Meijer will continue reviewing data daily for temperature impact on mileage, charge times, battery life optimization and driver comfort.
Freightliner's new battery-electric eCascadia truck is the zero-emission version of the Cascadia and is ideally suited for short-haul routes that allow for depot-based charging, according to a statement from Meijer. They have a typical range of 230 miles and can recharge 80 percent of the truck in about 90 minutes.