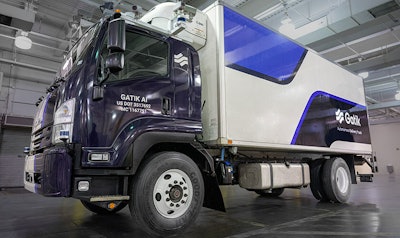 Among the concerns with truly driverless trucks is how it can safely travel on slick and wet roads or handle a catastrophic failure when a person isn't onboard to judge and compensate for hazardous conditions. 
Autonomous tech developers have taken various approaches to handling a wide range of potential hazards, including using data collected by the tire itself to predict when a problem might arise and making tire problems part of their platform's fail safe protocols. 
In partnership with autonomous autonomous middle mile logistics tech company Gatik, Goodyear recently demonstrated in a proof of concept that intelligent tires – in this case using Goodyear SightLine technology – can accurately estimate tire-road friction potential and provide real-time information to Gatik's automated driving system (ADS). Goodyear SightLine measures tire wear state, load, inflation pressure and temperature and combines that with real-time road/weather data and proprietary rubber friction models to estimate the friction potential, allowing Gatik's fleet to respond to challenging conditions within its operational design domain (ODD) and adjust route planning and provide recommendations for safe driving speed, vehicle acceleration limits and vehicle following distance.
"The tire is the only part of the vehicle that touches the ground, and this new level of data sophistication can communicate vital information to the vehicle, enhancing safety and performance," said Chris Helsel, Goodyear's senior vice president, Global Operations and Chief Technology Officer. "This is another step to evolve the tire to not only deliver its core, traditional job, but also be a nexus of new data and information."
The two companies recently deployed road-friction detection capabilities in Canada through continuous measurement of tire sensor-derived information, which is paired with other vehicle data and connected to Goodyear's cloud-based proprietary algorithms to optimize vehicle performance. Friction estimates from Goodyear's SightLine were able to detect low grip conditions, such as snowy or icy conditions, and make this information available to Gatik's autonomous fleet.
Handling tire blowouts
How a truck without a person in the cab might respond in the event of a traction problem has been a focus of autonomous technology developers for some time. Autonomous trucking start up Kodiak Robotics in May became the first company to publicly demonstrate its fallback system, which autonomously pulls a self-driving truck to the side of the road in the event of a truck or system failure.
The company in November demonstrated how this system would react with a tire blowout, showing that even after the tire – in this case the driver-side steer traveling at approximately 35 mph – is destroyed, the Kodiak Driver remains in control and brings the truck to a stop while maintaining its lane. In the case of the blown tire, the truck compensates for the failed tire by applying a different steering angle. 
"People ask us all the time 'What happens if you blow a tire",' and we wanted to showcase how the Kodiak Driver can maintain control more precisely than a traditional truck, even with a completely destroyed tire," said Don Burnette, Founder and CEO, Kodiak Robotics. "We can't control the hazards trucks will face on the open road, but we can control how the trucks behave when a critical situation occurs."
Aurora in July said its technology could safely pull over a rig from highway speeds without human involvement following detection "of system issues," which Co-Founder and Chief Product Officer Sterling Anderson said included "any of a number of factors, from blown tires to damaged sensors…"