PGT Trucking Inc., a Pennsylvania carrier offering flatbed, dedicated, international and specialized services, recently purchased of a Nikola Tre battery-electric vehicle (BEV) truck. PGT will use the Nikola Tre BEV on a select customer account, primarily operating on local, dedicated routes.
Previously, PGT signed a letter of intent to lease 100 Nikola Tre fuel cell electric vehicle (FCEV) trucks. PGT's R&D department will help prepare for the full integration of these units into PGT's fleet, which are anticipated to arrive later this year, according to a statement from the company. With the addition of the new zero-emissions equipment, PGT is on track to reach its sustainability goal, reducing carbon emissions from its company-owned fleet by 35% by 2025.
"Our customers have expressed a need for sustainable shipping solutions, and we are working to align ourselves with their green energy commitments. With the purchase of the Nikola Tre BEV, PGT is prepared to meet these demands," said Gregg Troian, PGT Trucking president.
PGT's new Research and Development Department, led by Laurence Cox, Vice President, Sustainability, has been tasked with analyzing and applying the company's green fleet solutions, identifying additional short-haul usages for the battery-electric truck and exploring new initiatives to support its operation across multiple platforms.
Trucker wins $100,000 in Kentucky Lottery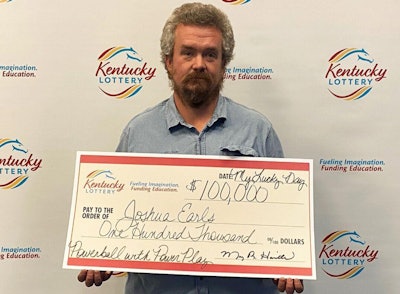 A Kentucky trucker recently won $100,000 in a Kentucky Lottery drawing.
Joshua Earls a truck driver from Louisville was hauling fuel when he stopped at the Pilot Travel Center in Sonora about 50 miles south of Louisville. He told lottery officials he wanted a chance to win the record Powerball jackpot of $1.9 billion so he bought a ticket for the Nov. 7 drawing. 
Earls purchased five sets of his own numbers he picked out on the lottery vending machine.
Earls chose to spend an additional per play for the Power Play feature, and the decision paid off.
While in Nashville waiting for fuel, Earls checked his ticket. His winning ticket matched four of the white ball numbers and the Powerball to win the game's $50,000 prize.  His winnings were multiplied by the Power Play drawn which was two.
Sheetz lowers diesel prices for rest of January
Today Sheetz, a Mid-Atlantic restaurant and convenience chain, announced it's decreasing diesel prices by 50 cents a gallon at each of its 665+ locations that offer this grade.
The offer started today and ends Jan. 31, and includes both auto and truck diesel fuels.
Last September, Sheetz celebrated Truck Driver Appreciation Week by reducing diesel fuel prices to $4.49 a gallon for the entire month. 
The company said the reduction could save drivers of Class 8 trucks as much as $ 60 on a fillup.
During the offer, the price displayed at the pump is the final purchase price and reflects the price rollback.
ICYMI
9 tractor-trailers part of double fatal crash on I-80 near Iowa City
Driver Poll: Are you looking for a new job in January?
New Truckers' Gear Guide arrives; loaded with tips on winter on the road
Michigan grocery chain testing two eCascadias in cold weather