Trucking news and briefs for Thursday, Jan. 12, 2023:
2022 traffic fatalities on par with 2021 through first nine months

The National Highway Traffic Safety Administration estimates that traffic fatalities through the first nine months of 2022 were nearly identical to the same period in 2021.
A statistical projection of traffic fatalities for the first nine months of 2022 shows that an estimated 31,785 people died in motor vehicle traffic crashes. This represents a marginal decrease of about 0.2% as compared to 31,850 fatalities projected to have occurred in the first nine months of 2021.
The estimated slight dip in fatalities comes as the Federal Highway Administration preliminarily reported that vehicle miles traveled (VMT) in the first nine months of 2022 increased by about 39 billion miles.
With the rise in miles traveled, the fatality rate for the first nine months of 2022 decreased to 1.30 fatalities per 100 million VMT, down from the projected rate of 1.32 fatalities per 100 million VMT in the first nine months of 2021.
NHTSA also reported that, through the first six months of 2022, estimated traffic fatalities in crashes involving at least one large truck (with a GVWR of more than 10,000 pounds) were up 10% from 2021.
NHTSA notes that the actual counts for 2021 and 2022 and the ensuing percentage changes from 2021 to 2022 will be further revised as the Fatality Analysis Reporting System (FARS) annual report files for 2021 are available, as well as when the FARS final file for 2021 and annual report file for 2022 are available next year. These estimates may be further refined when the projections for the whole of 2022 are released in late April.
Final two Volvo LIGHTS electric trucks delivered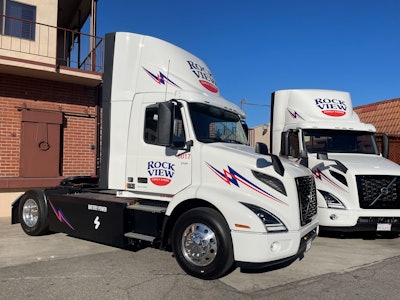 Volvo Trucks North America customer Rockview Farms, a family owned and operated dairy business in Southern California, recently deployed two Volvo VNR Electric trucks to support farm-to-customer deliveries of local California milk.
The zero-tailpipe emissions battery-electric trucks will help reduce noise and emissions in the neighborhoods surrounding Rockview Farms' facility in Downey, California, which is the central hub for deliveries throughout the greater Los Angeles area. Rockview Farms' Volvo VNR Electric trucks are the final two trucks to be funded through the award-winning Volvo LIGHTS project. 
"Volvo Trucks commends Rockview Farms for being a good neighbor that has long demonstrated their commitment to the local community, which they are continuing to support by deploying zero-emission Volvo VNR Electric trucks for their local routes," said Peter Voorhoeve, president, Volvo Trucks North America. "Delivering these two trucks to Rockview Farms is a nice closure to the successful Volvo LIGHTS project, which was focused on providing a range of benefits — cleaner air, reduced noise, workforce development opportunities, and more — to Southern California communities through freight electrification." 
Volvo Trucks deployed its first Class 8 Volvo VNR Electric trucks to fleet operators in 2019 as part of the Volvo LIGHTS project. Over the next several years, Volvo Trucks North America, South Coast Air Quality Management District, and 12 other organizations designed and implemented a blueprint for the complete ecosystem needed to successfully deploy commercial battery-electric freight trucks, eventually deploying more than 30 of these vehicles in California's South Coast Air Basin.  
Rockview Farms is building out high-powered charging infrastructure at its Downey facility to support the battery-electric Volvo VNR Electric trucks with funding from Southern California Edison (SCE)'s Charge Ready Transport program. Once complete, the infrastructure will also charge the batteries for its electric transport refrigeration units (eTRUs). The facility is currently utilizing temporary 75kW chargers to support the Volvo VNR Electric trucks and two planned electric yard trucks.  
Estes names new president
Estes Express Lines (CCJ Top 250, No. 11) has announced the promotion of Vice President of Process Improvement Webb Estes to president and chief operating officer (COO), effective Jan. 10. Webb represents the fourth generation of the Estes family to lead the company, which was founded in 1931.
Rob Estes, formerly the company's president and CEO, will continue his duties as chairman of the board and CEO. Vice President and COO Billy Hupp has transitioned to the role of vice president of the board and corporate executive vice president. 
"Leading a dynamic company with such a rich history of excellence is no small feat, and I'm both humbled and grateful for this opportunity — and for the support of our teammates across America," said Webb Estes. "For nearly a century, Estes has helped shape and lead the logistics industry, and I'm thrilled to carry on our tradition of customer-focused vision, innovation and success."
In addition to his previous role, where he oversaw much of the company's day-to-day operations and spearheaded several technological improvements, Webb has hands-on expertise of Estes' operations through managing a terminal, driving company trucks, and moving freight on the dock. He also holds a CDL. 
Transportation and Logistics Systems acquires Northeast LTL carrier
Jupiter, Florida-based logistics service provider Transportation and Logistics Systems is acquiring Severance Trucking, an LTL carrier serving New England, upstate New York and Canada. Headquartered in Dracut, Massachusetts, the fourth generation, 122-year-old family-owned carrier has 54 drivers and power units. 
Terms of the deal were not announced. The transaction is expected to close at the end of January. 
"Severance is a long-established, well-run and highly-respected family-owned business with a 120-year history of providing outstanding customer service," said TLSS Chairman and CEO Sebastian Giordano. "We are very excited about the opportunity to establish a strong presence in the New England market that will strategically expand our geographic footprint."
When combined with its existing operations in New York and New Jersey, the acquisition Severance Trucking will "elevate our profile into that of a regional carrier, which we believe, will create greater opportunities for organic growth," Giordano added. 
TLSS, through its wholly-owned operating subsidiaries, Cougar Express, Inc., Freight Connections, Inc., and JFK Cartage, Inc., operates as a full-service logistics and transportation company.