Trucking news and briefs for Friday, Jan. 13, 2023:
CargoNet: Cargo theft reports increased in 2022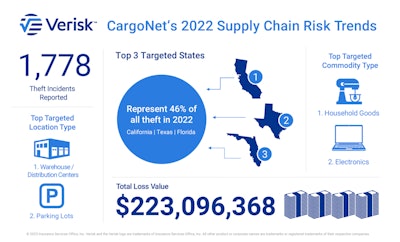 Cargo theft recording firm CargoNet recorded 1,778 supply chain risk events across the United States and Canada in 2022, a 15% increase over 2021. 
The firm's 2022 data indicated that events that involved theft of at least one heavy commercial vehicle such as a semi-truck or semi-trailer increased by 17% year-over-year, while events that involved theft of cargo increased by 20% year-over-year. CargoNet noted that a single event record could involve theft of one or more vehicles or shipments.
The average value of cargo stolen in an event was $214,104. CargoNet estimates that $223 million in cargo was stolen across all cargo theft events in 2022.
Supply chain disruptions were one of the main concerns of the year because of their effect on inflation. Scarcity and cost drove illicit market demand for goods that were most affected, like computer graphics cards and raw beef, poultry and pork. Available capacity eased in the later months of 2022, but theft remained a prominent threat.
Increases in theft activity around major intermodal hubs were significant. California remained the top state for reported events in 2022, and theft in the state increased 41% year-over-year. Computer and green energy components were some of the most frequently stolen items of the year, and California is a major logistics hub for these items.
Theft in Georgia increased by 34% year-over-year, due in part to organized crime groups that took advantage of increased traffic to the Port of Savannah. Georgia shut down a state task force to investigate cargo theft in 2020, CargoNet said.
Household items, including appliances and furniture, were the most stolen commodity in 2022. Household items were closely followed by electronics. Theft of computer electronics decreased by 37% from 2021, but CargoNet noted theft of those products reached unprecedented highs in 2021 and theft was still elevated compared to baseline. Additionally, theft of televisions and other displays nearly doubled from 2021.
CargoNet warns that the transportation industry should take steps to mitigate fictitious cargo pickups – a blend of identity theft and cargo theft that can affect all parties in a supply chain. CargoNet recorded 96 more fictitious pickups in 2022 compared to the year prior, a 600% increase year-over-year. Shipments of solar modules, auto parts, and vehicle maintenance products like engine oil are most at risk, but the threat extends to most categories of goods.
This style of fictitious cargo pickup relies heavily on subcontracting the shipment to a legitimate motor carrier and having the shipment misdirected to another address. Brokers and shippers can help prevent fictitious cargo pickups by verifying any bids on shipments with the motor carrier through their contact information on file with the FMCSA and verifying the name of the motor carrier and driver matches who the shipment was tendered to.
Motor carriers should be wary of new customers that offer payment through peer-to-peer money transfer apps if their business would haul a blind shipment delivering to an address different from the bill of lading, especially if the address is a public warehouse or cross-dock in California.
U.S. Xpress' Fuller appointed to Federal Reserve Bank of Nashville's board
Eric Fuller, president and CEO of U.S. Xpress (CCJ Top 250, No. 19), has been appointed to the board of directors for the Nashville branch of the Federal Reserve Bank of Atlanta.
Fuller will service a three-year term ending Dec. 31, 2025.
Federal Reserve Bank of Atlanta branch directors provide economic information from their industries and the branch territory to the district Bank's president and head office directors, who use the information in discussing monetary policy options and making discount rate recommendations.
In addition to his role as president and CEO of the fleet, Fuller is also a board member of the American Trucking Associations and the Trucking Alliance.
Eveon Containers expands into Canada
Eveon Containers is expanding its North American operations to include multiple regions in Canada.
A global provider of sustainable building, shipping, and storage offerings, Eveon currently has European headquarters in Rotterdam, The Netherlands. North American headquarters were established earlier this year in Charleston, South Carolina, to support the more than 30 cities in the U.S. where containers are available.
The Canadian expansion allows residents and businesses to order decommissioned containers online with an option of delivery within 250 kilometers of Calgary, Montreal, Toronto, and Vancouver.
Eveon's online shop provides 24/7 purchasing options for used 20-, 40- and 40-foot high cube shipping containers. They company offers a 30-Day Money Back Guarantee, upfront pricing, volume discounts, and delivery within 5-10 business days.
"We don't just sell containers, we sell opportunities for customers to launch a business, start a pop-up restaurant or simply to save money on storage," said Eveon CEO, Aad Storm. "With 45 million TEU (twenty-foot equivalent unit) containers in the world, our goal is to recycle, repurpose, and reduce emissions one container at a time. We believe containers once retired from sea can serve another purpose on land."