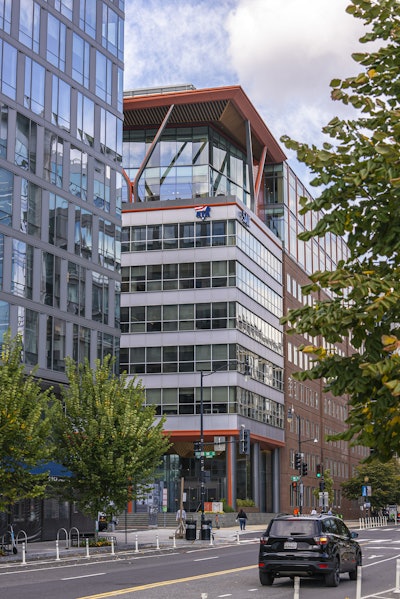 The American Trucking Associations this week moved into its new Washington D.C. headquarters building – within walking distance to the U.S. Department of Transportation and Capitol Hill – completing a course reversal from when the agency left the nation's capital city in 1984 for Northern Virginia. 
ATA President and CEO Chris Spear said a return to D.C. after nearly 40 years was important because "ATA's advocacy efforts are best served by being close to where decisions are made," adding ATA looked forward to "welcoming our members and decision-makers to our new home and sharing the significant contributions our industry makes to every American each and every day."
In addition to hosting workspaces for nearly 150 of ATA's professional staff, the new office at 80 M Street SE features a state-of-the-art broadcast studio, multi-purpose conference area and a commercial-grade kitchen.
Visitors to ATA are greeted by imagery representing the trucking industry, including an actual truck in the 8th floor lobby donated by Ruan Transportation (CCJ Top 250, No. 32). A longtime ATA member and supporter of the Federation, ATA's Capitol Hill Office was previously named the Ruan Transportation Center in 1997 and the truck honors Ruan's legacy of support for the association.
While ATA's headquarters previously was located in Arlington, Virginia, the association maintained an office in Washington, D.C.
"We are proud to have our truck as a centerpiece of the lobby to welcome people to ATA's headquarters," said ATA Chairman Dan Van Alstine, Ruan president and COO. "As our industry transports goods to every corner of the country, this truck is a visual representation of the critical role our industry plays, and the countless stories like Ruan's, that keep our economy moving every day."
ATA announced its plans to relocate in early 2020, taking over new office space in an expansion of an existing building in Washington, D.C.'s  Riverfront District.