Trucking news and briefs for Thursday, Jan. 19, 2023:
Trucking conditions improved slightly in November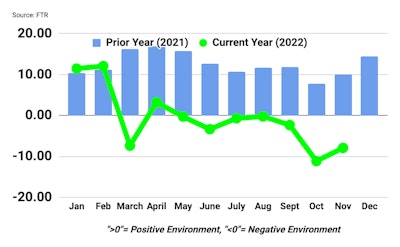 FTR's Trucking Conditions Index improved in November to -7.94 despite a weakened freight rate environment.
October's -11.16 TCI reading had been the weakest since the April 2020 contraction. The only positive contribution to the November index was freight volume, FTR said, but all other index factors were less negative than in October aside from freight rates, which were the most negative since May 2020.
"The outlook for trucking conditions has changed little, and we still do not forecast any positive readings for the Trucking Conditions Index until late 2024," said Avery Vise, FTR's vice president of trucking. "The recent deceleration in consumer inflation certainly is a positive development, but we do not anticipate that it will lead to any meaningful increase in consumption."
Vise added that the industrial sector is still slow and that increased output in the automotive sector "remains an upside possibility but only if vehicle sales improve and the supply chain remains stable."
Additionally, slowing job growth and new authorities in trucking, "coupled with a surge in carrier failures likely mean the industry is starting to lose driver capacity," Vise noted. "If so, market conditions for carriers might outperform our current outlook starting late this year as capacity could prove tighter than reflected in our forecast, potentially leading to stronger rates."
Schneider takes delivery of first BEV in SoCal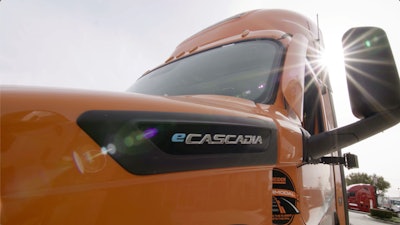 Schneider (CCJ Top 250, No. 9) announced Tuesday that the first of its new battery-electric vehicles (BEVs) has been delivered in Southern California.
The delivery of the first of almost 100 Freightliner eCascadias Schneider will receive from Daimler Truck North America (DTNA) is a highly anticipated moment for the carrier. Schneider anticipates the BEVs will be fully operational by the end of 2023, positioning the company to become one of the largest battery-electric truck fleets in North America.
The eCascadias will join Schneider's Southern California Intermodal operations. To power the BEVs, Schneider is constructing 16 charging stations.
The eCascadias have the potential to avoid more than 81,000 pounds of carbon dioxide emissions per day, the company said. Over the course of a year, that is equivalent to removing 2,400 gas-powered cars from the road.
Battery-electric trucks are a crucial component in Schneider's efforts to reach its sustainability goals of reducing CO2 per-mile emissions by 7.5% by 2025 and 60% by 2035. Schneider has already achieved more than half of its 2025 goal by reducing per-mile emissions by 5%. Battery-electric trucks will help move the company even further toward these goals.
FMCSA denies trucker's HOS exemption request
The Federal Motor Carrier Safety Administration, in a "Federal Register" notice to be published Thursday, has denied an exemption request from truck driver Ronnie Brown III that would have exempted him from five provisions in the hours of service regulations.
This is the second such denial in recent months, as the agency also denied a request from owner-operator Lee Schmitt in November.
Unlike Schmitt, who did not request to be exempt from the 11-hour daily drive time limit, Brown requested a five-year exemption solely for himself from the drive time limit, as well as the 10-consecutive-hour off-duty requirement, the 14-hour driving window, and the 60 hours in seven days and 70 hours in eight days cumulative limits, along with the electronic logging device regulations.
Brown said he "can safely drive and knows when he is tired and does not push beyond his limits of safety, regardless of the amount of sleep he gets or the length of drive time," adding that "always maintains a safe distance from other vehicles, has an excellent driving record, and has never been involved in a preventable crash."
FMCSA received 1,223 comments on the request, with 587 in favor of granting the exemption, 119 opposed and 515 offering no position.
In its denial, FMCSA said Brown "failed to establish that he would maintain a level of safety equivalent to, or greater than, the level achieved without the exemption." The agency added that it agreed with some commenters who said granting such an exemption for one driver "could open the door for a huge number of similar exemption requests. Such a result would be inconsistent with a primary goal of the HOS regulations," FMCSA concluded.
Mack intros refreshed Granite model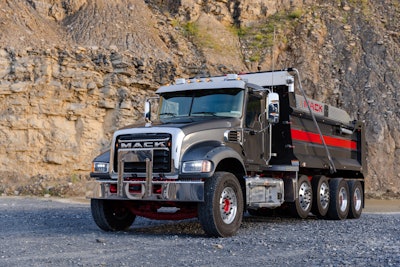 Mack Trucks debuted Tuesday an updated Mack Granite model at World of Concrete 2023, which features a new, more modern fascia with an updated chrome grille and self-heating LED headlamps that offer brighter illumination, improving forward visibility by up to 29% and peripheral visibility by up to 50%. 
"The Mack brand is focused on building reliable, safe and comfortable products that help businesses maximize productivity," said Jonathan Randall, president of Mack Trucks North America. "The Granite refresh is an evolution of that DNA. The updated fascia not only looks great, but it also helps make the Granite safer to operate in a myriad of conditions and reduces strain on the operator."
Available for order in February, the new grille and air intakes modernize the look of the Granite, and the choice of two grille treatments offers customers another way to customize their vehicles, the company said. The standard grille features blacked-out cross bars surrounding the chrome Mack badge with the optional grille being all chrome.  
Self-heating LED headlights round out the updates and add to the suite of safety features already on previous Mack Granite models. The integrated heating elements automatically sense the ambient temperature and turn on to keep ice and snow from building up in colder environments. An anti-fog coating prevents condensation in warmer, humid environments to improve visibility. 
The new LED technology is designed to fully illuminate the road and jobsite, including the driver- and passenger-sides of the vehicle, to reduce eye fatigue, while letting operators detect objects sooner. 
Safety is also improved during daylight driving through new, integrated amber daytime running lights that double as turn signals, making the truck more visible to oncoming traffic and on the jobsite.  
The LED headlights are designed to be long-lasting through their high-impact polycarbonate lenses with additional hard coating protection to prevent cracking, scratching or damage to the headlight from road or jobsite debris.  
In the event of damage, the headlight assemblies are designed to be easily replaced and are also backwards compatible with earlier truck models if current Granite owners choose to upgrade.
Estes opens new Texas terminal
Estes (CCJ Top 250, No. 11) has opened a new terminal in Arlington, Texas, that boasts 203 doors, a five-bay shop, nearly 204,000 square feet of dock space and almost 15,000 square feet for offices.
The Arlington terminal now serves as one of Estes' largest facilities in its network. In total, the company now has 17 terminals in Texas and more than 200 nationwide. 
"We are excited to open this new facility as we continue to grow our services and fleet in the Southwest region," said Larry Sanderson, district operations manager at Estes. "Opening this terminal serves as a major milestone in Estes' growth, and we are excited to welcome new employees, serve more customers and expand operations at this state-of-the-art facility." 
The Arlington terminal is located in the Dallas-Fort Worth metroplex. The terminal features eDock technology, which provides shipment location visibility in real time.