Trucking news and briefs for Monday, Jan. 23, 2023:
Knight-Swift receives first electric Kenworth T680E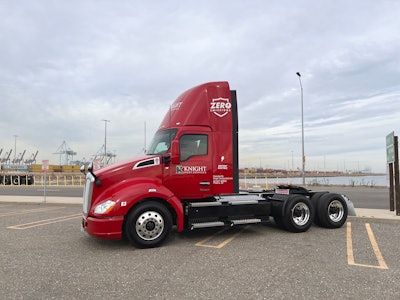 Knight-Swift Transportation (CCJ Top 250, No. 5) recently became the first major U.S fleet to take delivery of a zero-emissions Kenworth T680E Class 8 battery-electric vehicle.
The Kenworth T680E will operate at the Knight Port Services terminal in Southern California.
The fleet worked on the T680E's procurement and purchase of a supporting Paccar 120 kW electric vehicle charging station with Inland Kenworth – Phoenix.
The Kenworth T680E is designed for pickup and delivery, regional haul and drayage applications, and is available as a day cab as either a tractor or straight truck. The T680E has an 82,000 lb. gross vehicle weight rating and an estimated 150-mile operating range, depending on the application. 
The Kenworth "Driving To Zero Emissions" program also features the Class 7 K370E and Class 6 K270E battery electric vehicles, and Paccar charging stations. Both the K270E and K370E are for pickup and delivery and short regional haul operations. The electric powertrain is available with high-density battery packs of 141 kWh, 209 kWh and 282 kWh that deliver up to 100-, 150- and 200-mile range, respectively.
Paccar Parts distributes electric vehicle (EV) charging stations that maximize coverage over a full range of Kenworth electric vehicles, with output power from 20 kW to 350 kW. EV chargers can be purchased from Kenworth dealers.
Proposed legislation would allow under-21 drivers to work ports
Under current federal law, picking up freight from a port is considered interstate transportation, even if the freight stays within the state where the port is located. This, of course, means 18- to 21-year-old truck drivers cannot pick up freight from ports, even though they are allowed to operate in intrastate commerce.
A new bill introduced in the U.S. House by Rep. Brian Mast (R-Florida) would change that federal law so that freight moved from a port to another location within the same state is considered intrastate commerce rather than interstate.
Dubbed the Ceasing Age-Based (CAB) Trucking Restrictions Act, Mast said the bill would eliminate "logistical hurdles in order to maximize the labor force in the United States and address a contributing factor of the supply chain crisis."
The text of the bill states that "the transportation of goods from a port of entry and another place within the same state as part of trade, traffic, or transportation originating outside such state or the United States by commercial motor vehicle shall not be considered interstate transportation for purposes of requirements relating to commercial driver's licenses."
The bill was introduced in the House on Jan. 10 and currently has 19 Republican co-sponsors. It has been referred to the House Committee on Transportation and Infrastructure, where it would need to be passed before moving to the full House floor.
Yellow driving academies hit graduation milestone
In its effort to help train the next generation of professional truck drivers, Yellow Corporation (CCJ Top 250, No. 6) announced it graduated more than 1,000 CDL apprentices from its network of driving academies in 2022.
While expanding its Driving Academy program to 21 locations across 16 states, Yellow set the 1,000-graduate goal in early 2022. On Dec. 22, the graduation of six student drivers from Yellow's South Bend, Indiana, Driving Academy officially surpassed 1,000 graduates for the year.  
"This is an enormous accomplishment for our company that involved hard work and tremendous dedication from our students, instructors and safety trainers across the country," said Darren Hawkins, CEO of Yellow. "Operating our own academies not only ensures that we have the most qualified and skilled drivers on the road, it also helps address a shortage of professional drivers across the nation."  
To help increase the number of truck drivers amid a nationwide driver shortage, Yellow has partnered with the U.S. Department of Labor to sponsor paid apprenticeship programs, such as the Driving Academies, where students are trained and mentored in the classroom and on the road by seasoned industry professionals and certified instructors. Yellow's Driving Academies are tuition-free for all participants, and student apprentices are paid an hourly wage for their work throughout the program.
Weber Logistics appoints new VP of Transportation
Weber Logistics has promoted Gary Kendle from Senior Director of Transportation to VP of Transportation. Kendle succeeds Jerry Critchfield, who is retiring after decades of leadership in Weber Logistics' Transportation division.
Kendle will be responsible for Weber's full breadth of transportation operations. He has more than 28 years of operations experience in multi-mode transportation including small parcel, LTL, FTL, drayage, intermodal, first and final mile. He has previously held senior leadership roles at Pacifica Logistics Group, NEXT Trucking, ADP Express, Performance Team, and Maersk.
"We're excited to have Gary's proven successful leadership as part of our growing team," said Weber CEO Bob Lilja. "He looks forward to working closely with all of our clients to design solutions to meet and exceed their growing transportation needs."
Women in Trucking announces new leadership
The Women in Trucking Association recently announced Jennifer Hedrick is the incoming president and chief executive officer of the association. She will work closely with WIT's board of directors and staff to oversee initiatives that support WIT's mission to encourage the employment of women in the trucking industry, promote their accomplishments and minimize obstacles faced by them.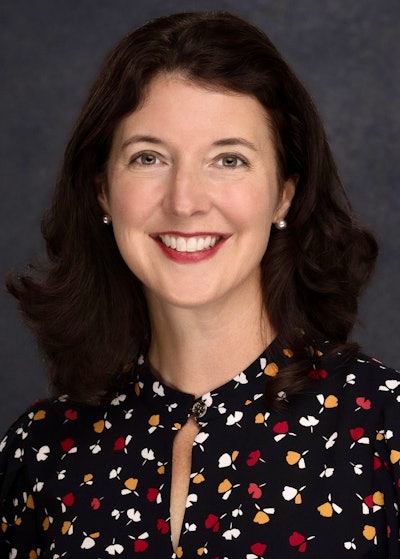 Hedrick will formally take on full leadership responsibilities on March 16. She assumes the role from Ellen Voie, who has been president and CEO since she founded WIT in 2007. 
"Through WIT's mission we have created a community of 8,000 members to advance gender diversity in a male-populated industry," said Voie. "I'm thrilled to have an association executive like Jennifer Hedrick who will continue to advance the critical mission of the association I started 16 years ago." 
Hedrick has 17 years of association leadership experience and is an accredited executive by the American Society of Association Executives. For five years she led the National Industrial Transportation League focusing on issues across highway, rail and ocean freight transportation. In that role, she advocated on behalf of members to create efficiencies throughout the commercial freight transportation network. 
Initially, Hedrick will focus on becoming familiar with the members and key stakeholders of the association. According to Rachel Christensen, WIT chair and vice president of operations for J.B. Hunt Transport, Hedrick has already begun collaborating with WIT's board of directors on future opportunities for the association during a strategy meeting in Dallas recently.
"With Jennifer's leadership, WIT will continue its central mission to advance the importance of gender diversity in transportation," said Christensen.